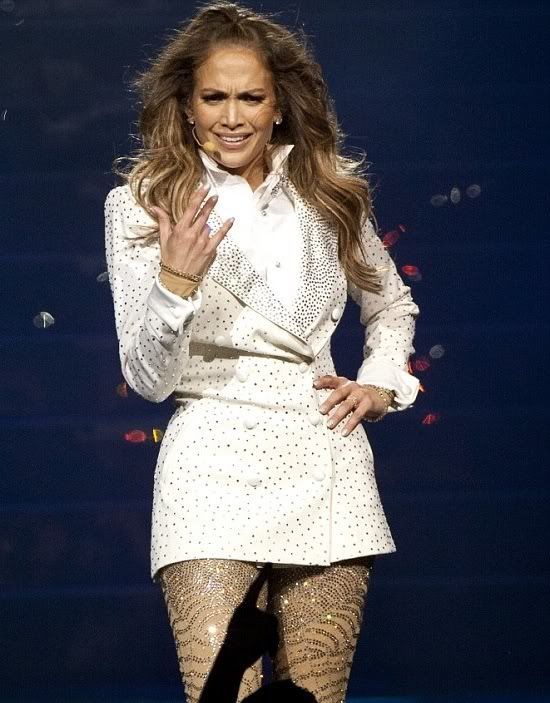 Last night, Jennifer Lopez took the stage for the Mohegan Sun Arena's 15th anniversary celebration in Connecticut. But it appears her recent divorce and incessant gossip about her love life (and her new boo actor Bradley Cooper) is taking a toll on her. After dedicating part of her headlining performance to her famous ex-husbands and ex-boyfriends like Sean "Diddy" Combs, she reportedly broke down on stage.
Deets inside...
Well this is peculiar. 42-year-old J.Lo looked fabulous as usual in a nude sparkling catsuit and white sparkling blazer as she hit the stage last night. But all that glitters aint gold. Because clearly Jenny is going through some things.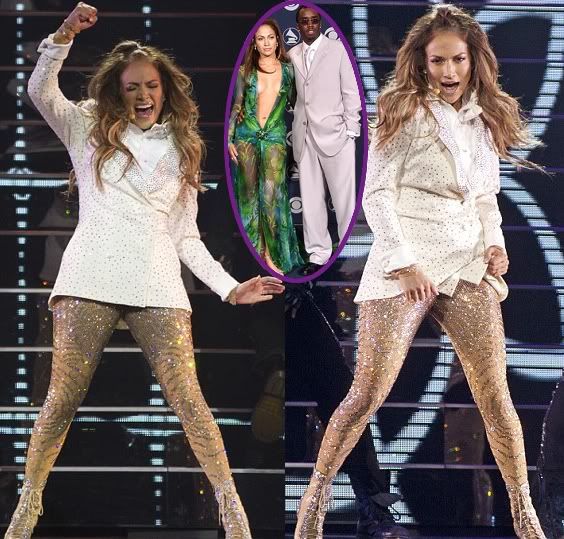 Radar Online reports that after she sang her 1999 hit "If You Had My Love" (which is all about trust), she had the look-a-likes of all her ex-men pop up on stage in spotlights. Even with look-a-likes of her to accompany them--like a chick rocking that now famous uber revealing green Versace dress (inset pic) she wore with Diddy to the 2000 Grammys.
She then revealed that the song, which was released during her tumultuous relationship with Diddy, was the first one she wrote about love. Then she oddly said, 'What is love? As the last song I wrote about love...a lot has changed since then.'

Then the site reports she recreated all her relationships with past loves on stage:
As she sang, pairs of dancers appeared in spotlights around her. One couple had a P. Diddy look-alike with the female dancer wearing a copy of her infamous slit-down-to-the navel Versace gown. Another had the male dancer mimicking Cris Judd with the girl in jeans and a T-shirt, while another pair had the girl wearing a seafoam green gown on the arm of a Ben Affleck double. Most telling was the dancing couple who recreated Lopez and Marc Anthony during their sizzling American Idol performance last May, just weeks before they announced their split.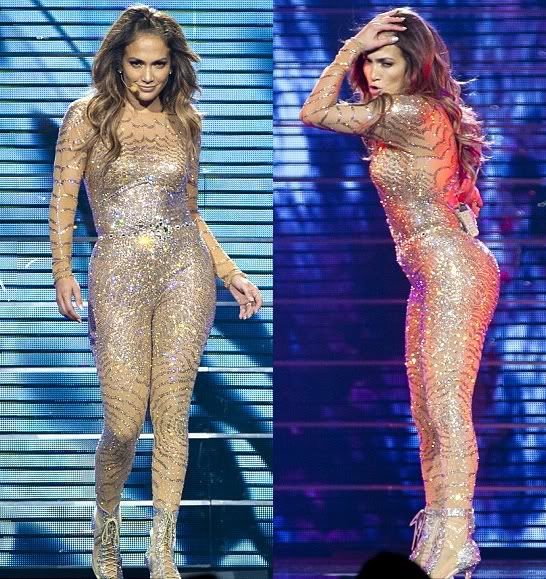 And then chick broke down.
"At the end of the song she started sobbing and had to take a few moments to keep it together," an onlooker told RadarOnline.com exclusively.

"She held it together for one song but then ran offstage crying.

"She only sang a few more songs and she was obviously out of it. Everyone was so sad for her. It was really dramatic."
Jenny claims she was crying over the pic of her beautiful twins that was shown on the big screen. Here's video:
Damn homie. I always said Jenny was the only chick Diddy really loved and really wanted. Does she want that old thing back? Or was it all just a moment of love weakness we've all had? Time will tell....
EXTRAS:
1. A 7.3 earthquake just hit the poverty striken eastern part of Turkey. STORY