OWWW!: Rihanna Drops $1500 In Paris Sex Shop...In 5 Minutes
Oct 23 | by Natasha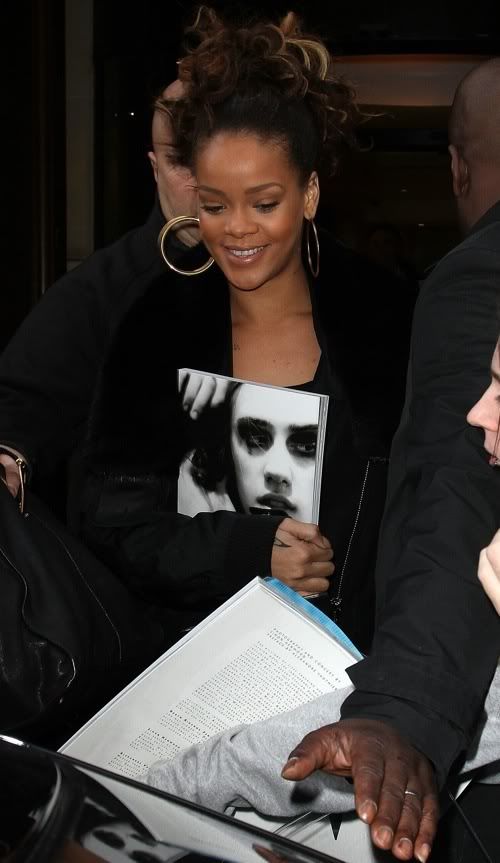 She's no stranger to sex shops. Rihanna has been seen visiting them time and time again...both solo or with a boo. And this weekend was no different as she reportedly dropped some serious dough in just minutes.
Deets inside, and what the "We Found Love" director had to say about her casting decisions....
The Sun reports that Rihanna spent £1,000 (equivalent to about $1580) in about 5 minutes at a sex shop as soon as she touched down in Paris. And what was on her shopping list? French panties, toys, leather handcuffs, scented candles and bath-oils.
An onlooker at the Lovestore, in the Pont Neuf area of the French capital, said: "She knew exactly what she was after and didn't want any assistance picking out items."

"There was no dithering. She was grinning from ear to ear and seemed to be in a hurry to get back to her hotel."
Not mad at that. Gotta love a chick who knows what she wants. But the singer responded to a fan who tweeted her about it saying:
yea right!!!! I barely had 5 mins to eat!!! Food!
She was also spotted leaving her Paris hotel (above) clutching famed photographer Ellen von Unwerth's slightly X-rated photobook, Omahyra & Boyd. It features graphic sexual imagery of nudity, women in bondage gear and lesbian lovemaking, and fun party times with the featured models.
By the way, MTV chatted up director Melina Matsoukas about her decision to cast Breezy's doppelganger, Dudley O'Shaughnessey, as Rihanna's lover in the "We Found Love" video. And she said it had everything to do with meeting Rih's demands of casting someone smoking hot:
"I mean, in the casting she was like, 'You just need to find me some hot a** guy ... so then he had to be somebody she found attractive."

"Even with the actor we cast, we had a casting and there were tons of people that we looked at and I saw him," she said, noting that he had to look like he "was supposed to be some London rough kid and that's what he looks like to me. He's perfect because he doesn't feel like he American and he fit. We just saw pictures and I was like, 'His look is definitely good, but can he act?'"

"I love him! He's so cute! His look is gorgeous and then he was just an amazing actor and he really brought out in her an amazing performance," Matsoukas gushed. "It felt natural. It was like watching a love story on the monitor."
And her explanation for the controversial drug use and hypersexualized shots:
"There's a lot of comparisons to her real life, and that's not at all the intention.

We love, obviously, to do provocative imagery ... we always try to definitely push the limits. I think because, in the end, it's not really at all about domestic violence. It's really just about it being toxic, and they're on this drug trip and that definitely plays a part, but I think it's also about being triumphant over those weaknesses, and she leaves him. It's not trying to glorify that type of relationship. The bad parts of it, that's what you don't want. In the end, her leaving, it represents her getting that out of her life. The drugs and the addiction and the toxic -- that's what brings her downfall and brings a lot of harm."
Check out MTV for their full interview about the vid. "We Found Love" is #1 on the charts and iTunes. And the official video has over 6 million plays on Vevo already. Congrats!