MUSIC FAB: Usher & Justin Bieber's New Track "The Christmas Song"
Oct 24 | by Natasha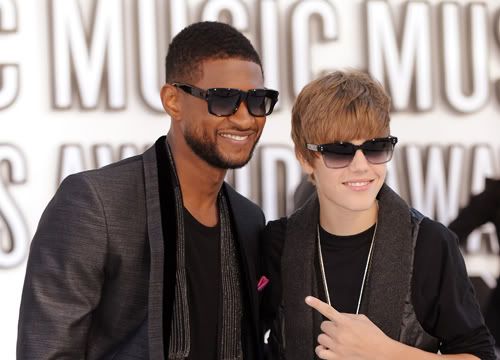 Usher hopped on a brand new Holiday track with his mentee Justin Bieber. Their duet "The Christmas Song" just hit the radio airwaves today. Check it under the cut, and what Mr. Raymond has to say about his money-making protégée.
Justin's releasing his first Christmas album, Under The Mistletoe, on November 1st. And here's the second track, as a follow up to "Mistletoe," from the LP:
Almost forgot how good Usher's voice is. I honestly wish he would have done this record by himself. Where is his own Christmas album by the way? Mr. Raymond told Ryan Seacrest this morning about the track:
"Justin and I did the classic record 'Chestnuts Roasting On An Open Fire.' This record is going to be remembered for years to come. It's a record that has always been one of my favorites, and I'm happy that I was able to share it with Justin, and for us to put it out. The album is full of surprises, Justin's 'Under The Mistletoe' is going to be incredible!"
Justin's LP will also feature appearances from Mariah Carey, Usher, Busta Rhymes, and Boyz II Men.
Check out footage of Ursh and The Biebs creating the track in the studio:
You feelin' it?