MJB, J-Hud, Jill Scott, Florence + The Machine & More Are VH1 DIVAS+J.Lo Is GLAMOUR's Woman Of The Year
Oct 27 | by Natasha
"VH1 Divas" is back. Mary J. Blige, who just hit the stage at last night's TeenNick HALO Awards in Hollywood, is this year's honoree. And Jill Scott, Florence + The Machine, Jennifer Hudson, and more are on the list too.
Deets inside on who's getting divalicious, plus cover girl Jennifer Lopez is named GLAMOUR Mag's Woman of the Year, inside....
VH1 is bringing back "VH1 Divas," which benefits the VH1 Save The Music Foundation. And this round they're paying tribute to the cities where soul gave birth to music's most powerful classics that inspired today's divas. Mary J. Blige (pictured above on stage at last night's TeenNick HALO Awards), Jennifer Hudson, Jill Scott, Florence + The Machine, Kelly Clarkson and Jessie J will pay homage to these cities at New York City's Hammerstein Ballroom.
"VH1 Divas Celebrate Soul" will have the best singers on hand to honor the soulful cities that inspired these divas and their art. The cities honored include: Chicago, Detroit, London, Memphis and Philadelphia. Accompanied by The Roots, with Questlove as musical director, each diva will pay tribute through not only their own soul-inspired songs, but some of the greatest classics that have shaped a genre.
The show premieres Monday, December 19 at 9 PM/8c on VH1.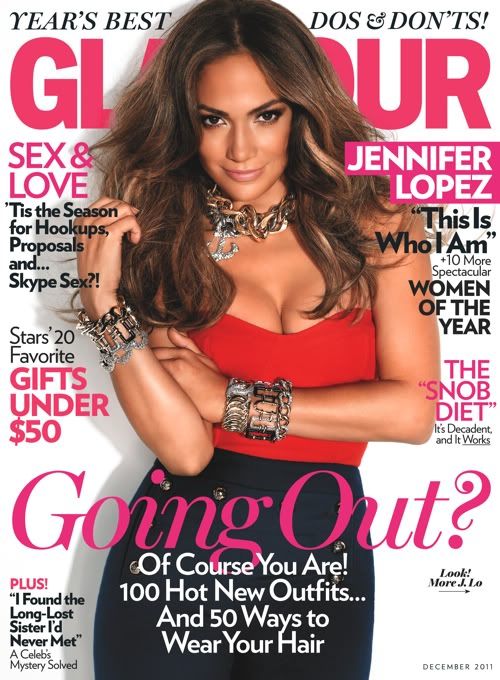 And the gorgeous Jennifer Lopez has just been named GLAMOUR Magazine's Woman of the Year. So, of course, she's rocking the December 2011 cover of the mag.
For the L.A. cover shoot, she looks chic in a red bustier by Chloë Sevigny for Opening Ceremony, pants and a Swarovski crystal anchor necklace by Salvatore Ferragamo, a Michael Kors gold necklace, Verdura gold bracelet, two Chanel Fine Jewelry gold, black onyx, and diamond bracelets, a Lorraine Schwartz white gold diamond bracelet, a Verdura gold, platinum, and diamond wide link bracelet and a Pomellato rose gold and diamond bracelet. I
And for the cute inside-pic, she wears a Salvatore Ferragamo bandeau top, an Enza Costa tank and a Chris Benz skirt.
In the issue, veteran actress and Jenny's former co-star Jane Fonda interviews the newly single singer-actress about life, love and learning from her biggest year yet.
Here's a few highlights:
On the possibility of a new relationship out of the public eye
"I think to give something a chance, to really get to know somebody, you want to do it out of the public eye. You know the media—they want to rush everything."

On her style
"The things I liked when I was, like, 16 and in the Bronx—jeans, cut-up T-shirts—I still like. But I've been exposed to so much now from traveling the world and seeing couture clothes. I used all of that when I created my new line for Kohl's. My style has come from everything, from where I started to where I am today."

On what she's learned about love and relationships
"I think I've finally learned the biggest lesson of all. You've got to love yourself first. You've got to be OK on your own before you can be OK with somebody else. You've got to value yourself and know that you're worth everything. And until you value yourself enough and love yourself enough to know that, you can't really have a healthy relationship."

Glamour's December issue is available on newsstands nationwide and digitally on November 8. Jenny looks great.
GLAMOUR Photog: Matthias Vriens-McGrath