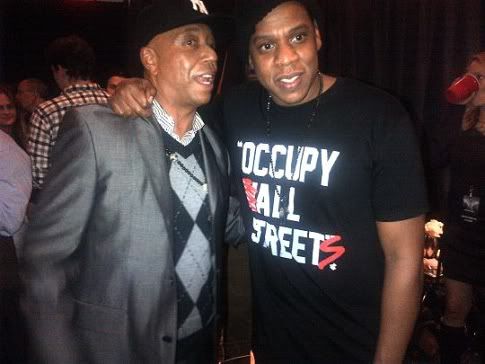 Jay-Z and Rocawear are launching an Occupy Wall Street T-shirt line today....but don't plan to donate any profits to the movement's originators. And some people are pissy. Does that make Jay-Z a part of the problem or just a "smart" business man. Plus, go inside marketing guru to the A-Listers Steve Stoute's life and his TANNING effect.
Speak on it inside.....
If you want to latch on to a cause that is both fashionable and politically correct (to most), Rocawear has the answer.
The clothing label is launching a line of Occupy Wall Street t-shirts today that will "support" the movement in principle....but not financially. The shirts spin the phrase "Occupy Wall Street" making it read "Occupy All Streets." Rocawear says it's to expand the notion of rectifying wrongs in all places...not just Wall Street.
A Rocawear spokeswoman said in a statement to Gawker,
The 'Occupy All Streets' T shirt was created in support of the 'Occupy Wall Street' movement. Rocawear strongly encourages all forms of constructive expression, whether it be artistic, political or social. 'Occupy All Streets' is our way of reminding people that there is change to be made everywhere, not just on Wall Street. At this time we have not made an official commitment to monetarily support the movement.
You decide.....is Jay-Z a part of the exact problem all the Occupy Wall Streeters are protesting (e.g. the 1 percenters taking things from people, making money from it, and not sharing the profits properly)? Or is this just a good business move and capitalizing on a "moment" while you can?
SPEAK ON IT.......
BONUS:
Speaking of hip hop & social politics...watch this "Nightline" piece on Steve Stoute and his book The Tanning of America: How Hip-Hop Created a Culture That Rewrote the Rules of the New Economy. It goes inside the life of the business guru--from glitzy A-List parties to serious mainstream business deals he's cut for pretty much ALL your favorite artists--furthering their international brands even more.