SPEAK ON IT: Chrissy & Kimbella's SUCKER PUNCH BRAWL On "Love & Hip Hop 2"
Nov 15 | by Natasha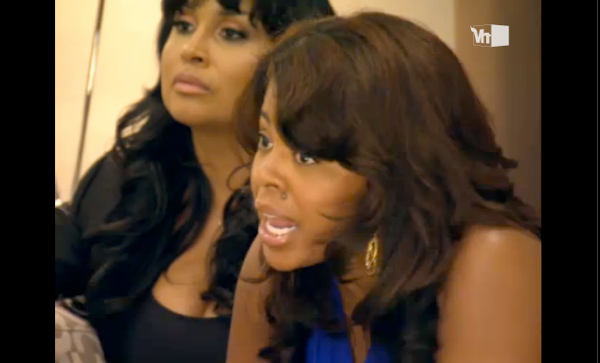 And so it begins. On last night's Season 2 premiere of "Love & Hip Hop," the "ladies" kicked off things with a bang. And a punch or three.
Was Kimbella wrong for the way she revealed to the whole room that she used to cheat with Fabolous? Was Chrissy wrong for sucker punching her on behalf of her homie Emily B.? Speak on it....
So here's a little background. Last night, video chick and Juelz Santana's baby's mother (or as she delusionally introduced herself...."The woman of Juelz Santana, a "model," an actress, a diva, and everything else") Kimbella met Jim Jones' girlfriend and narrator of the show Chrissy for the first time. Their men are both a part of the Dipset clique and have been besties for years....but Juelz's baby mama apparently wasn't on Chrissy's radar.
Shortly after those two met for the first time, Kim and Yandy (Jimmy's now ex-manager) met all the rest of the girls at a suite for Emily's "Independence from Fabolous" party. (Anybody else find it ironic she was on this woman's empowerment tip the entire time talking about how wrong Fab does her...but they're currently back together now?) Anywho...the party went left when Kimbella came out of the woodwork telling Emily (and the entire room) that she used to "date" Fab 3 years ago. When Emily put her math skills to use--she realized 3 years ago, she was pregnant with their son Johan. So once again, Fab was cheating. Kimbella put on the "Yeah...sorry about that" face...and Chrissy lost it.
Peep the videos of the beat down. Was Chrissy wrong for taking up for her girl who couldn't speak up for herself? Or did Kimbella deserve to catch some hell for not only cheating with Fab (she claims she didn't know anything about Emily despite it being well known the two were a couple and their baby shower was all over the net), but also for not pulling Emily to the side to tell her privately instead? Was Kim just being messy and trying to play that ever-transparent victim role?
Video of the pre-fight drama (and Mama Jones' foolywang behavior with this damn rap diss about Chrissy):
Video of the actual fight:
Speak on it...
BONUS: Kimbella and Yandy hit Power 105's The Breakfast Club this morning. And Kim says Juelz is fine with the fact she was Fab's jumpoff. And she says revealing last night that she sexed Fab was done for tv. Shocker.