YBF KID: Diddy's Son Justin Combs Nabs FULL FOOTBALL SCHOLARSHIP To UCLA!
Nov 29 | by Natasha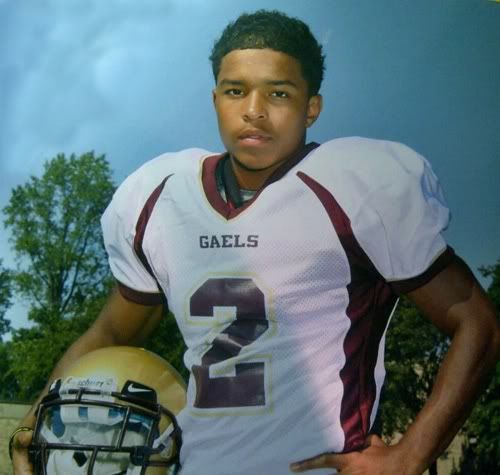 Justin Combs, son of mogul Diddy and fashion maven/stylist Misa Hylton, just nabbed a sweet deal. And nope, it doesn't involve music. Check out how Justin will be flexing his athletic skills at UCLA next year inside....
Justin Combs is all about his grades and his ball playing. And it's clearly paid off. Diddy's oldest son just announced today via press release that he has accepted a full scholarship to play Division 1 football at UCLA!
And the uber cutie isn't a dumb jock...he's carrying a 3.75 GPA as a Senior at Iona Prep in New Rochelle, NY. And it didn't hurt he was also thehead of the African American Society. He will major in Business Finance next fall as a college freshman.
The 5-foot-9, 175-pound cornerback chose the Bruins over offers from Wyoming, Virginia, and Illinois, among others.
And the youngin's pretty happy about his decision to follow his dreams. He said in a statement today:
"Today I am truly blessed and thankful to accept my scholarship and give my full commitment to UCLA. Playing division I football was a life long dream of mine, and through hard work I was able to achieve it. I am a living testament that with a strong relationship with God, family, and hard work dreams do come true."
Proud papa Diddy gushed, "As a parent, today is one of the proudest moments of my life. This is everything a father could want for his son, for him to excel at what he loves to do and is truly passionate about."
He went on to say, "Justin is a shining example of what hard work, determination and a strong mentality can achieve. I am honored to call him my son and am happy that he is fulfilling his dream."
Justin was also selected to play in the inaugural Marine Semper Fi All-American Game held in Phoenix, AZ, January 3rd, as part of college football's Fiesta Bowl weekend. Hopefully Justin can get some pointers from Romeo Miller about how to handle the California college girls. Stay focused!