Michael Ealy DISHES With The Breakfast Club On LOVE SCENE With Taraji P. Henson And DATING Halle Berry!
Jan 05 | by _YBF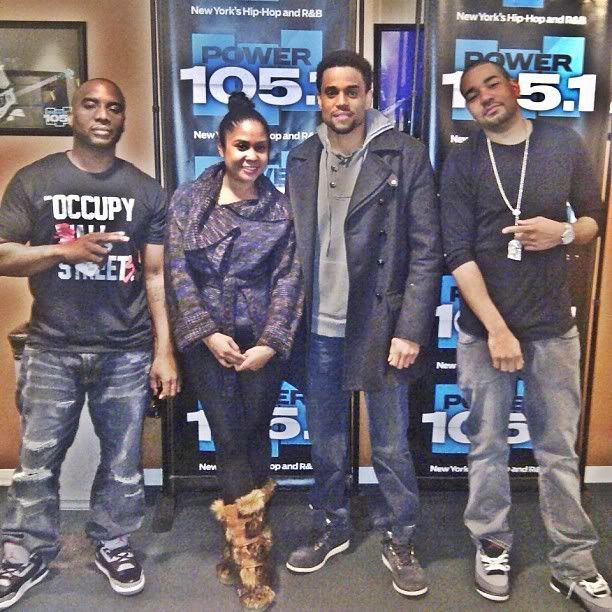 Think Like A Man actor Michael Ealy stopped by Power 105's Breakfast Club earlier to talk about his latest film role, his love scene with Taraji P. Henson and his controversial character in For Colored Girls. Deets inside...
Michael Ealy in making the rounds in NYC to promote his role in the star-studded Steve Harvey adaptation, Think Like A Man.
While having some "man" talk with Charlamagne Tha God, Michael revealed that he had a sexy love scene with Taraji P. Henson, but it was a little uncomfortable! He added that though Taraji is gorgeous, he was forced to wear a "prop" that kept his penis from coming into contact with her. And there were people completely surrounding them. Awkward.....
He also sparked a discussion about post-traumatic stress syndrome saying our service people have to deal with "a lot" they return home from war. He shared that his character in For Colored Girls did not know how to handle life's challenges and there was no one to help him process through.
And what does he think about reality shows?
"What bothers me the most is the content itself…I think it's disturbing…people like to see a trainwreck…It speaks volumes on our society overall. It's kinda juvenile. They're grown adults acting like they're in high school."
And when dating Halle Berry came up, he simply said,
"Listen, she's a good friend of mine. I never felt like she was crazy…"
Watch the interview below:
The Randomness:
1. So Marc Anthony showed off his new girlfriend: a 24-year-old (just like J.Lo's Casper) Venezuelan model Shannon De Lima, who is the mother of a 4 year old. Story Sigh...