There's a beef brewing between rappers Common and Drake...Rick Ross is smack dab in the middle of it. Listen to Ricky's "Stay Schemin (Remix)" where Common disses Drake inside.....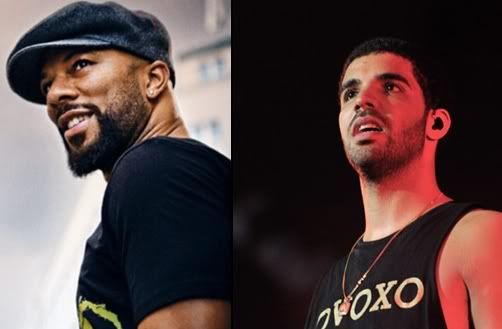 On Rick Ross' latest "Stay Schemin (Remix)", which appears on Rick Ross' new Rich Forever mixtape, Common takes a swipe at rapper Drake. But what sparked this?
During an interview with MTV, Common revealed that Drake took offense to his track "Sweet."
"He opened his mouth and said some things, so if that's what he want—all that subliminal [talk]…you could do that too, but say it now."
Talking about his track "Sweet" he added,
"The verse is about me but when you hear some of the stuff on the chorus it's like you can't help but think about dude and I guess that's what he felt. So at the end of day he fits in that category, he already embraced it, so wear it."
Shortly after the release of "Sweet" Drake responded to Common on the original Rick Ross track "Stay Schemin." And now, Common is responding to the response (so to speak) on the remix.
Listen to Rick Ross' "Stay Schemin (Remix)" ft. Common here, where Common says Drake isn't keeping anything wet...because he's Canada Dry....
When did Common start beefin' with folks 50 Cent style??