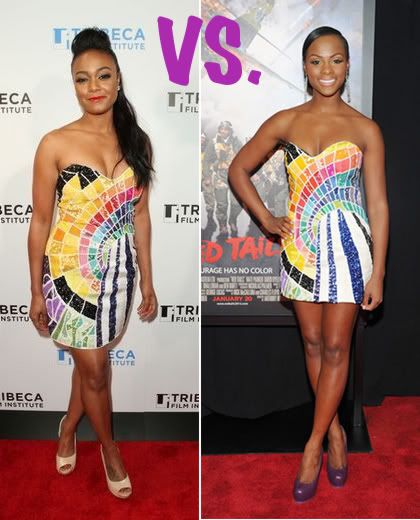 It's a red carpet face off! YBF actresses Tatyana Ali and Tika Sumpter rocked the same Nicole Miller dress recently. Now you decide who rocked it best....
"Love That Girl" actress Tatyana Ali first hit the red carpet of the Tribeca Flm Institute event in April of last year in this strapless multicolored Nicole Miller cocktail dress. She paired it with nude open toed pumps and a pouf-style ponytail.
And last night, on the "Red Tails" movie premiere red carpet in New York, "The Game" actress Tika Sumpter rocked the exact same bold colored dress with her deep purple platform pumps, ponytail, and long earrings.
So...
WHO ROCKED IT BEST?!
SIDENOTE: Beyonce also wore this dress in her "Party" video.