MOVIE FAB: Watch 7 Minutes Of "Red Tails" NOW
Jan 12 | by _YBF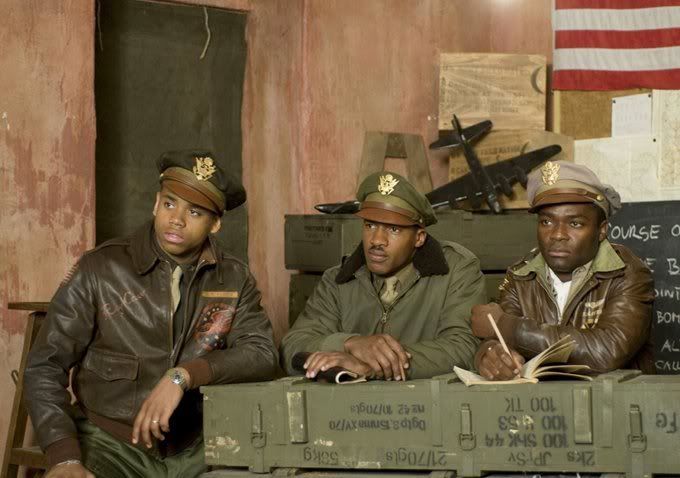 A big sneak peek into the film Red Tails, about the Tuskegee Airmen, has been released. Watch 7 minutes of the movie inside and find out what director George Lucas had to say about why Hollywood wants nothing to do with a film made up of an all-black cast.
We told you earlier about the Tuskegee Airmen film Red Tails, which stars so many of Hollywood's finest including Method Man, Ne-Yo, Cuba Gooding Jr. and Terrance Howard; but you might not know how hard it was to get the film made. Which is why George Lucas came out his own pocket for the project.
During revealing "The Daily Show" and USA Today interviews with director and writer George Lucas, the inner dealings of Hollywood and its racist tendencies were discussed.
Apparently, big budget movie companies think films with large Black casts (or films aimed at Black America) are risky business. Shocker. Because of this, it's very difficult for films with a Black slant to get financing. So what does this mean?
It means that Hollywood will be paying close attention to the box office of Red Tails (debuting January 20) and its success/failure may dictate the future of Black films.
Luckily, the film has a great director, a strong cast and looks fabulous (as you will see in the sneak peek).
Check out what Mr. Lucas said below and watch the sneak peek and interview:
On the difficulty getting funding:
This has been held up for release since 1942 since it was shot, I've been trying to get released ever since ... because it's an all-black movie. There's no major white roles in it at all ... I showed it to all of them and they said no. We don't know how to market a movie like this.
On the movie's impact on black filmmakers:
I realize that by accident I've now put the black film community at risk [with Red Tails, whose $58 million budget far exceeds typical all-black productions]. I'm saying, if this doesn't work, there's a good chance you'll stay where you are for quite a while. It'll be harder for you guys to break out of that [lower-budget] mold. But if I can break through with this movie, then hopefully there will be someone else out there saying let's make a prequel and sequel, and soon you have more Tyler Perrys out there.
Watch the sneak peek:
Watch the full George Lucas interview here: