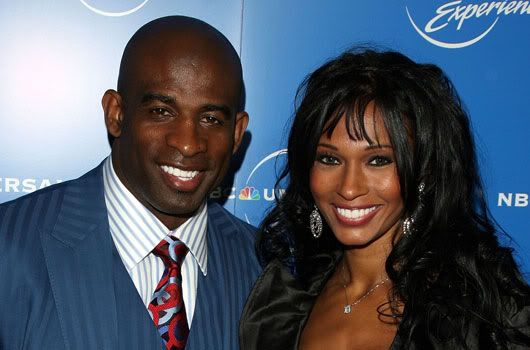 In a jaw dropping move, Pilar Sanders told a judge that Deion Sanders left her broke and with no way to provide for their kids. However, he did provide her with a few options to make money....on her "back!" Get the shocking deets inside and watch Evelyn Lozada talk about her love for "Poopie Monster" Chad Ochocinco.
And the messiness continues. Pilar Sanders claims Deion Sanders cut out her cash flow and has only offered to give her money if she has sex with him!
In new court papers filed in an emergency motion in a Texas courtroom Pilar claims,
"Since [Deion] filed for divorce on December 21, 2011, he has given [Pilar] $300.00 and offered her money in exchange for sexual favors."
So what did she do? She supposedly turned down the money.
Pilar wants the judge to make Deion come up off some money ASAP saying,
"The children and I have lived in survival mode for several months, and the emotional toll on all of us is palpable."
But it gets worse. She also said Deion "engaged in a pattern of systematically removing my belongings from the house and haphazardly throwing them into piles in the garage of the residence."
So how much does she want? Pilar claims Deion makes more than $1 million per year, so she wants a cut of that.
Just for S's and G's:
And in other news about ballers and their love lives.......
We told you earlier about Evelyn Lozada's sexy lingerie photoshoot for "MAXIM" Magazine and now we have footage from her interview. Above, watch Evelyn tell the story of how she came up with the nickname "Poopie Monster" for Chad.
And.....
Behind the scenes footage of the photoshoot.