Leah Remini CLAIMS Sharon Osbourne Got Her & Holly Robinson FIRED + Jordin Sparks DISHES On "Sparkle" And Whitney Doing The "Dougie"
Mar 13 | by _YBF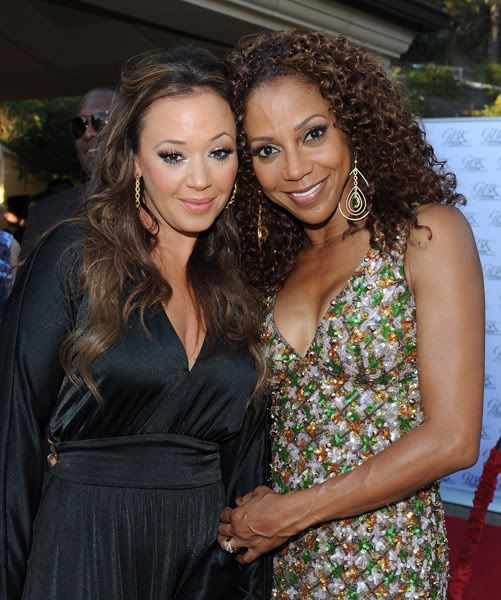 New York-bred spitfire Leah Remini is speaking out (glad somebody FINALLY is) about her and Holly Robinson Peete getting fired from "The Talk." And she says co-host Sharon Osbourne is the reason! Find out why inside and hear what Jordin Sparks recently said about Whitney Houston and their "Sparkle" movie.....
Actress Leah Remini took to her Twitter account yesterday and held back very little while explaining why she and actress Holly Robinson Peete were fired from CBS' chatfest "The Talk." Everyone on the show has remained mum on what went down. The co-hosts still there have still not even addressed their exit. Instead, CBS simply replaced them with comediennes Sheryl Underwood and Aisha Tyler.
Leah tweeted, "Sharon thought me and Holly were 'Ghetto', (her words) we were not funny, awkward and didn't know ourselves... She had us fired."
How does Leah know this for sure? She tweeted,
@ownit3 yes. That's what she revealed on Howard Stern. Quite sad to find out that way
Then added,
@Forever_Cate This kind of foolishness doesn't usually happen between actors. which she is not. Different kind of ppl.
And for those of you who are wondering how you replace two so-called "ghetto" actresses with Sheryl Underwood, a fan tweeted Leah,

@LeahRemini if so then it looks like Sheryl is the next to go cause Sharon looks like "shut up bitch" when Sheryl is talking
And Leah responded,
"That's who she is. she did that to me everyday. I feel for them. She has the power that was given to her. And yes, you are also right"
Last we checked the only person who had power to get anybody on that show fired is the woman who is literally in bed with CBS President Les Moonves--his wife and main co-host of "The Talk," Julie Chen.
This is all very messy. So far, we haven't had a response from Holly Robinson Peete (and we don't expect one). Holly took the high road and would not directly address the issue when she appeared on "Wendy" a few weeks ago.
Also.........
Jordin Sparks recently chatted with Ebony.com about the legacy of Whitney Houston and her role in "Sparkle." Here are the highlights.....
EBONY.com: Last time I saw you, you were having a Dougie dance contest on the set of the Sparkle. Who won?
Sparks: (Laughs) We were doing it up there and Whitney walked in and was like, 'What is that?' And I was like, 'It's called the Dougie!' And we started doing it and she started doing it … I was not expecting her to join in with us, but it was so much fun. She was like that. She was just really down-to-earth and really cool. We had an amazing time. She was so funny. So funny.
The talented actress went on to talk about her Sparkle role saying,
"It was the most incredible experience I've ever had. It's actually my first role in a movie, so going there was insane. I'd wake up every morning and I'd go get ready to do the scenes and here comes Whitney into the trailer and she's singing and blasting gospel music and just singing along to it and I'm just sitting there going, 'This is the best thing ever!' I grew up listening to her music, I sang her songs into a hairbrush, like, I love her movies; it was incredible to be able to be around her."
Jordin added that Whitney was a great mentor saying,
"Kevin Costner was so sweet to her and was so kind and just really wanted to mentor her and give her an amazing experience on her first film. And I found out that she wanted to do the same for me because it was my first and it was something that I was really nervous about and she really did that."

"She was always making sure I was OK, always asking if I needed something. In serious scenes, if the camera was on me, … she'd be making faces at me trying to make me crack. And I was like, 'I'm gonna get you for that!' But she was really, really sweet and her music will definitely live on forever. I sing her songs constantly in my head all day. But she was an amazing woman."