Chaundrea Nicolle Claps Back Saying "Rich Dollaz Is Lying," REVEALS Private Texts
Mar 14 | by _YBF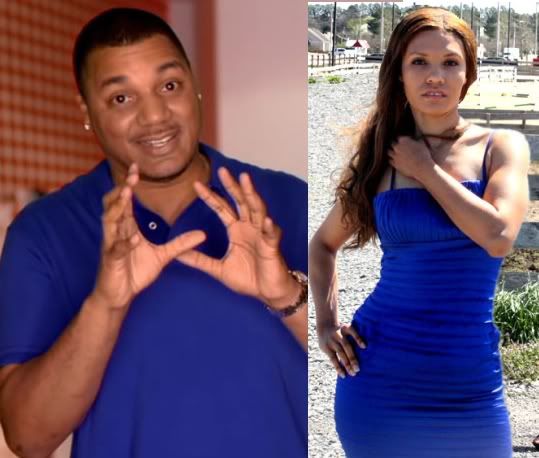 We exclusively told you yesterday about the drama brewing between "Love & Hip Hop" co-star Rich Dollaz and Chaundrea Nicolle over Rich's alleged paternity of her 12-year old daughter named Christie....and it just got even nastier. Chaundrea reached out to TheYBF.com and provided several texts that dispute the claims Rich made about his willingness to see his alleged daughter and to take a DNA test.
See the texts inside.....
Chaundra Nicolle was livid when
Rich Dollaz told TheYBF.com
that he would take a DNA test to prove paternity for her daughter. So now, she has provided texts (some of which she also tweeted) and a strongly worded email about the situation. Read her letter in full below:
"First off, I am highly livid that he had the audacity to contact you all and lie like he has. Attached you will find a text from him saying that he did not want a dna test and I've offered a dna test and he said that he knew our daughter was his. Also you will see texts from how disrespectful he is to our daughter. The droid texts are me, the other phone is texts to my daughter. Devasted, because he is trying to destroy me and he can not.





He does not know what's going on with me and is trying to defame my character. All the information in that article is incorrect. Richard's father is more involved than he has ever been. In fact when she was two, we went to Atlanta to visit but lost contact with them until she did her video reaching out to her father and he had it taken down.





This is a simple plot to try to cause me problems AGAIN! He is crazy. In fact he has been falsifying his information for years. His age, his education, etc...He is a fraud and him posting that story is another attempt at trying to defame my character.




What he doesn't care about is our daughter who will see this lie he posted and how it would make her feel. He really needs a hobby. He is known for arguing with females and keeping up drama. He is evil and his character is bitter and selfish. I'm just setting the record straight but he really needs to get a life because he doesn't know what I'm doing. He's nothing but a liar. I am a single parent who takes care of her children very well. For him to give you this false information just because he wants to make me look "bad" is desperate and pathetic. The thing is ultimately it hurts our daughter. He need to leave the show stuff and our daughter separate.





I am in the entertainment business just as he is and I guess he doesn't like that for whatever reason. I hold my own so he's picked the right wrong one to play with!"
Chaundrea then tweeted last night:
He's known about her ALL her life. The end! I will say no more. Kinda busy living REAL life. My kids are important to me & this mess is not!
The following texts were sent to us from Chaundrea and we have blocked out Rich's number. On several texts, the question of paternity seems "resolved" but the DNA issue still lingers. There are also a few insults about career, character and integrity.
It's very messy: