Devin Thomas DISHES To "YRB" Magazine About FEMALE ADMIRERS + Angela Simmons COVERS "GHUBAR" Magazine
Apr 06 | by _YBF
2012 Superbowl winner Devin Thomas gets sexy in the latest issue of "YRB" Magazine where he talks about the type of woman he wants and all his sexy tats. Also, Angela Simmons got cutesy for the latest issue of "GHUBAR" Magazine. Get deets on their interviews inside....
In the latest issue of "YRB" Magazine, handsome baller Devin Thomas (who recently left the GIANTS to play for The Bears) reveals what it feels like to be a Superbowl champion and explains why he continues to add to his body ink. He talks about his female admirers and reveals what he wants in a woman too. (Oh yeah...did we mention he's newly single?) Here are the highlights:
On winning the Superbowl:
I was so exhausted after that game. I was on the plane ride home and it was amazing to realize we were going to the Super Bowl. And I had a hand in it," Thomas reveals. "We went through so much that season as a team. It felt great. To be playing on the special teams and make something happen at such an important time to help the team. To be 'Johnny-on-the-spot' couldn't have been any sweeter. I just noticed the one fumble hit the opponent's knee and sprang to get my hands on that ball. Obviously, it was tense when the game went to overtime. When I jumped on the ball that second fumble and knew that we were in field goal range already, I was ecstatic. I couldn't wish it any better."
On getting tattoos:
"Over the past couple of days, I had my artist come through and sharpen up some of my work. Turn my gladiator piece into HD - High Definition. I'm a very artistic type of person. I like to express myself, and my skin is a canvas. If there are important elements in my life, I relish in the fact that I can wear those elements on my sleeve or on my leg. It represents who I am on the inside; it represents my mentality."
On female admirers:
"It's charming and it's very much appreciated that women find me attractive," says Thomas. "But there is more to me than my looks. I definitely don't want to be with somebody that thinks I'm just eye candy. I'm ready for somebody to get in tune with me. That's the way that I get down.
"I'm looking for a woman I can talk to. Someone I can have a good time with. I'm not looking for anyone to pressure me into doing anything crazy. I would like to find somebody to develop something with. I'm definitely not trying to be rushed, but I'm open to meeting someone who is real and patient."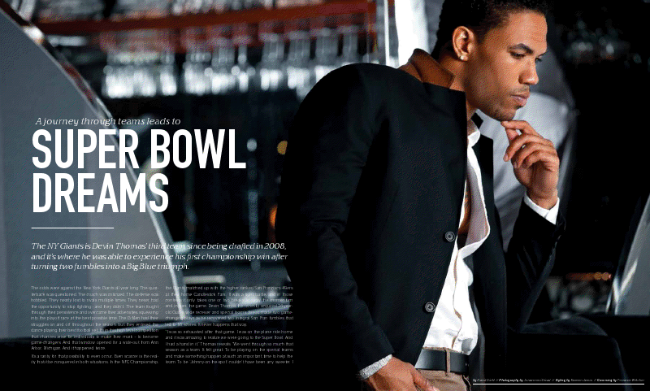 Also in magazines.....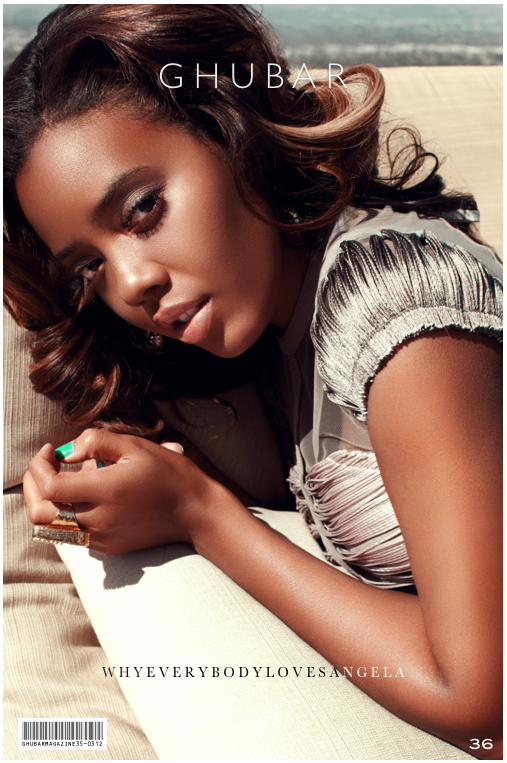 Angela Simmons COVERS online French magazine Ghubar. In the mag's spring issue, the cover girl does a 5 page fashion spread shot by Louiza Vick and dishes on her own fashion and businesses.
On the cover, Angela is wearing a dress from the Basil Soda Spring/Summer 2012 collection. The issue will go live on April 9th.
Photographer Louiza Vick / Styling Ugo Mozie & Daver Campbell/Make Up Ashley Gomila / Hairstylist Maisha Oliver