NFL Baller Brandon Marshall OPENS UP About His Borderline Personality Disorder
Apr 12 | by _YBF
NFL baller Brandon Marshall is opening up about his borderline personality disorder. And he's hoping to shed light on an issue that is often shunned in many communities. Get the deets inside....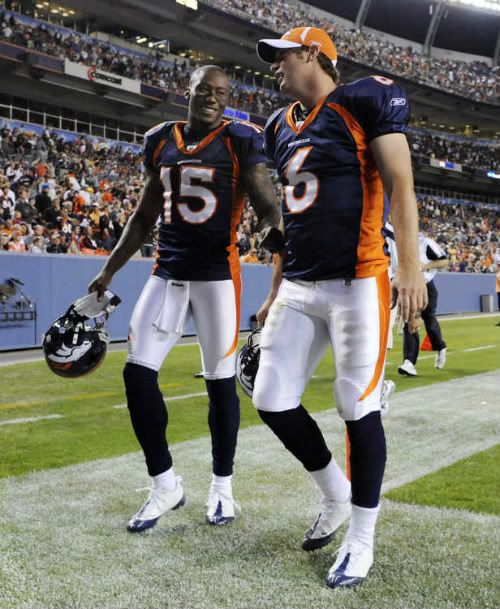 Hoping to pull back the curtain, Chicago Bears receiver Brandon Marshall, who suffers from a personality disorder, is speaking out about his condition. Though he has an extensive list of run ins with law enforcement like those domestic disputes with his wife Michi, those around him, like Pro Bowl receiver Larry Fitzgerald tells the Chicago Sun Times in a recent interview:
''I have only had positive experiences with Brandon. He is misunderstood. Once you get to know him, he will give you the shirt off his back. ''My thing is this: Get to know him, the man, before you pass judgment.''
Now Brandon is revealing what's gotten him into so many altercations over the years....borderline personality disorder. He says,
''A lot of people are afraid to talk about it — it's taboo in our communities. But I'm willing to use myself, make myself and my family vulnerable, to break the stigmas.''
And in an interesting footnote, Brandon added that a large number of prison inmates, both male and female, have been diagnosed with the disorder.
"Since I've been in the league, things have been very rough for me. From Day 1, I've always wanted better for myself, on and off the field. To finally get an answer — to finally be in a place where someone can help me — that was one of the best experiences I've ever had. But it was scary because someone is telling you, 'Hey, you have to go through this therapy. You have to stay up here and talk to me.' But the outcome was amazing.''
Now Brandon looks at his disorder with a different light. He says his anger was, ''my gift and my curse, because without that passion, without that intense approach to the game, which comes from a lot of my pain, a lot of my anger, I wouldn't be here today.''
Although Brandon now has his diagnosis under control, some others aren't so lucky.
''This thing is bigger than me. We're losing lives. When I was in treatment, there was a young lady who took her life. 'It's one of the most devastating disorders out there, but it's the most treatable, and with the proper help and the proper treatment, we can make a huge impact in our community.''
Brandon has now focused on using his fame as a way to help those who are lost.
''There's a lot of people who are pushing to get healing in our community. I'm just the guy with the fame, so it brings light to it quicker, and it spreads faster. So that's why I was excited to use my celebrity and platform to raise awareness.''
Wow. Glad he's using his experiences to do good for others.
The Randomness:
1. Omari Hardwick signs on for BET's "Being Mary Jane." Story.