PART 2: Bobby Brown Talks Whitney's Funeral And Bobby Kristina's Wild Ways On "Today"
May 03 | by _YBF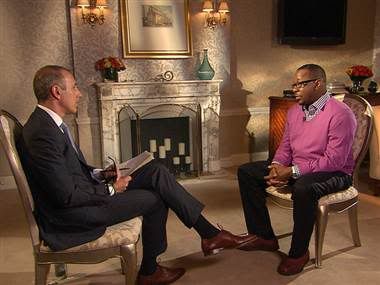 The "TODAY" show aired the second part of their exclusive Bobby Brown interview earlier this morning. And in his first in-depth chat since the death of Whitney Houston, Bobby talked about what happened on the day of the funeral, his DUI and if he thinks Bobbi Kristina is an addict.
Bobby Brown sat down with Matt Lauer this morning for his first interview since the death of Whitney Houston. He began by discussing why he left the funeral of his ex-wife.....before it began.
He said that security (not the Houston family) asked him to move his "entourage" (which he says were his children) to make accomodations for other guests. Bobby said by the third time, he'd had enough.
"I decided that, you know, it'd be best if I just left. I kissed the casket, and me and my children left the building."
Matt then asked him about his recent DUI arrest and Bobby claimed that he has been "clean and sober" from narcotics for 7 years but still had an cocktail every now and then. Sigh....Bobby - alcohol is your drug! You are not clean and sober.
Bobby addressed rumors of Bobbi Kristina's drug use and rumored relationship with her "adopted" brother in a very vague manner.
"I know what she is actually doing," Brown said. "I think people are, you know, making assumptions of what my daughter is and how strong she is. People tend to want to control strong-willed people. And that's what I see. … I am her father. She talks to me about everything."
He never denied her drug use.....past or present.
Then he was joined by his three oldest children who did a good job of backing up his claims of being a good father. Both daughter LaPrincia and son Landon say his bad boy image has followed him throughout life, but that's not who he really is as a father.
In one very candid moment, LaPrince revealed that she and Bobbi Kris had always been close, but lately their relationship has grown apart. She fought back tears while saying this.
Bobbi Kristina declined the interview.
Watch the interview here: