President Barack Obama CHATS IT UP On "The View" About Gay Marriage, Wall Street And Pop Culture
May 15 | by _YBF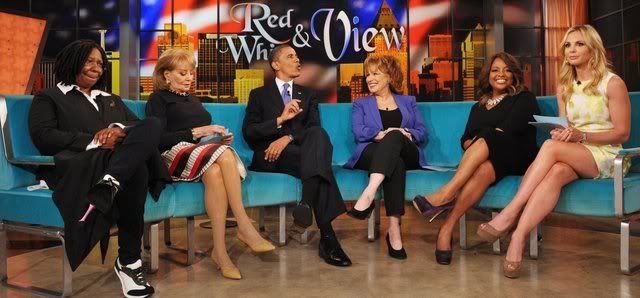 President Obama stopped by "The View" today to discuss a range of topics from Wall Street reform and gay marriage to fun stuff like singing at the Apollo. Watch clips inside.....
Earlier today, President Obama stopped by "The View" where he was initially expected to make his first public announcement about same-sex marriage (but that was later trumped by a "GMA" interview with Robin Roberts). After a little good natured ribbing about the scoop, he talked to the ladies about a wide range of subjects.
When asked if he ever got angry with Vice President Biden for being so outspoken, he said that he appreciated honesty and persons who speak their mind.
When speaking about gay marriage, he trumped up the importance of the word "marriage" saying civil unions made gay couples feel "different." He added that he knows this is a hot button issue but didn't think it would be a deciding factor in the election. He thinks the economy will be the biggest issue.
During one funny moment, Sherri asked him if he thinks the election will be "tight" and the President joked, "When your name is Barack Hussein Obama it will always be tight!" The crowd loved it.
When talking about Chase bank, he said that even smart people make mistakes.
And when Elizabeth asked how he would grade his administration, he said he'd give them an incomplete.
And just to show you that he is in "the know" the ladies quizzed him on current events and pop culture. He knows all about the Kardashians, watched The Avengers, that Sherri was on "DWTS," loves "Homeland" and "Mad Men." BUT...he told the ladies he didn't know about the 50 Shades of Grey craze.
We also learned fun facts like "sports" are his guilty pleasure, Air Force One does get turbulence, he quit smoking because of Sasha and Malia, he coaches Sasha's basketball team, he loves guacamole and chips, and the First Lady Michelle is a little bit "jealous" that other folks get to hear his singing voice.
Also, he added that Sasha and Malia love "Modern Family."
Watch President Obama discuss gay marriage here:
President Obama talks Wall Street reform here:
President Obama gets quizzed on pop culture here:
President Obama discusses next steps here:
President Obama dishes on Sasha and Malia here: