GQ FELLA: D'Angelo Opens Up About Substance Abuse, Rejecting Madonna & Sabotaging His Own Career
May 22 | by Natasha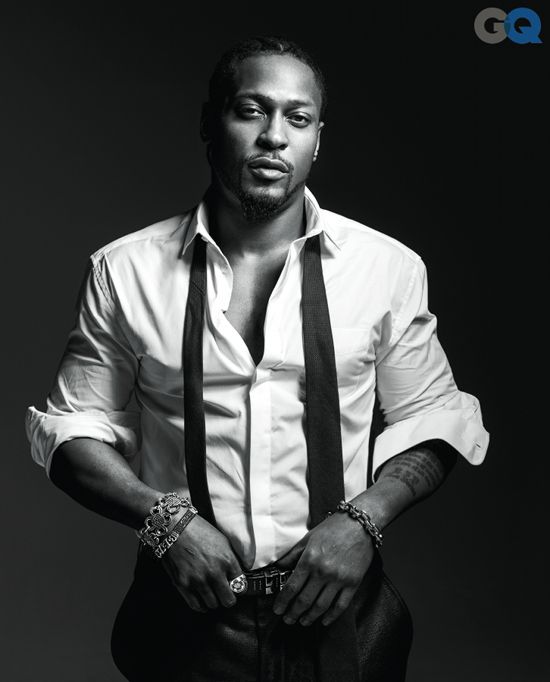 D'Angelo is giving his very first interview in 12 years (can't believe it's been that long!) in the June 2012 issue of GQ magazine. The incredibly sexy crooner, who was once hailed as the next Marvin Gaye, is telling all on what we've all be wondering about this past decade.
The "Cruisin" singer reveals why he hastily left the game of music, his run-ins with the law & substance abuse, and why he turned down the sexual advances of Hollywood chicks like Madonna....
Most of us never understood why a man with such talent literally threw it away for booze & drugs--voluntarily--just to escape the Hollywood life. But now, after his chit chat with GQ magazine, we just might.
Michael Archer (government name) was once tipping the scales at 300 pounds after he previously sculpted his body into a physique that had women dropping their panties just from watching the tv screen. And he did so to spite his own admirers. Here are the highlights where D'Angelo, along with his close friends Chris Rock & Questlove, explains without being PC why black stardom is a heavy price for sanity...and why he's very ready for his comeback:
D'Angelo on battling his substance abuse during his hiatus: "I didn't really think I had a problem like that," he says, taking a hit off a Newport. "I felt like, you know, all I got to do is clean up and I'll be fine. Just get in the studio and I'll be fucking fine."

...on his arrest for soliciting sex from an undercover officer: "It was just me making a stupid decision, a wrong turn, on the wrong night. I'm not the role-model motherfucker. Look at all the shit that I've been in."

...on Madonna:
When Madonna turned 39, she asked him to sing "Happy Birthday" at her party. One press report had her sitting on his lap and French-kissing him. In fact, two sources say that ultimately D rebuffed her advances at another gathering not long after. At that event, the sources say, Madonna walked over and told a woman sitting next to D, "I think you're in my seat." The woman got up. Madonna sat down and told him, "I'd like to know what you're thinking." To which D replied, "I'm thinking you're rude."

Chris Rock on black celebrities: "Black stardom is rough, dude," Chris Rock tells me when I reach him to talk about D. "I always say Tom Hanks is an amazing actor and Denzel Washington is a god to his people. If you're a black ballerina, you represent the race, and you have responsibilities that go beyond your art. How dare you just be excellent?"

Questlove, D'Angelo's former bandleader, on calling him after Amy Winehouse's death: "'D's the first person I called,' Questlove recalls. And I was just honest, like, 'Look, man, I'm sorry. I know you're thinking I'm avoiding you like the plague.' I just said plain and simple, 'Man, there was a period in which it seemed like you were hell-bent on following the footsteps of our idols, and the one thing you have yet to follow them in was death.'"

Questlove on D'Angelo's plans to escape stardom: "On the last day of the eight-month [Voodoo] tour, Questlove says D'Angelo told him, 'Yo man, I cannot wait until this fucking tour is over. I'm going to go in the woods, drink some hooch, grow a beard, and get fat.' Questlove thought he was joking. 'I was like, 'You're a funny guy.' And then it started to happen. That's how much he wanted to distance himself."

Questlove on self-defeating black artists: "Questlove has a theory about what happens to black genius—what he calls a 'crazy psychological kind of stoppage that prevents them from following through. A sort of self-saboteur disorder.'
Read the full interview over at GQ. The issue is on stands now. And you can catch D'Angelo getting back to his sexy form this Labor Day weekend at the Made In America festival in Philly.
Photo credit: Gregory Harris/GQ