RUMOR CONTROL: Jennifer Williams Is OVER The Drama, But WILL Return For Season 5 Of "BBW"
May 29 | by _YBF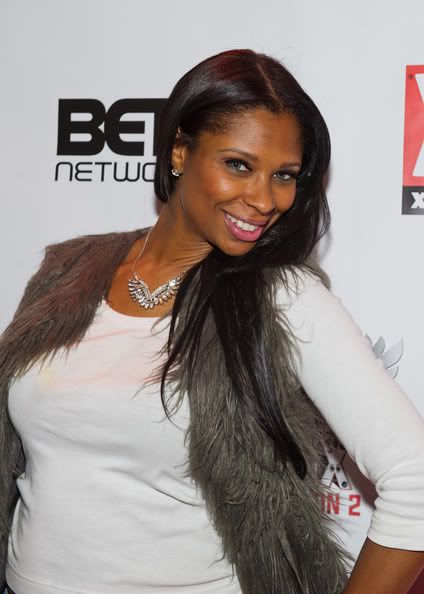 Jennifer Williams recently posted a blog that caused certain sites to assume she was leaving "Basketball Wives." So reports hit the net today saying she was making an exit. However, Jennifer's rep confirmed to TheYBF.com that the rumors are false. She is indeed returning for season 5. Deets inside...
After all of the drama this season, it's not shocking that Jennifer Williams is fed up with "BBW." She recently posted a blog that some folks thought was her way of saying goodbye to the show. She said in part:
It has been an epic season of Basketball Wives full of ups and downs, backstabbing, fallouts amongst friends, and assault and battery along with some tears. More than enough drama for me. I can definitely say with pure pleasure I am happy to see this season come to an end.
.....
In relation to the Basketball Wives cast, I feel some of the ladies who claimed to be my friend and claimed to be neutral made snide and slick remarks along with snickering about me. This proved to me that they indeed were not at all neutral. This season for me seemed no matter what I did it wasn't going to be right, so I stopped trying. Tahiti was the last straw for me, we were half way around the world and I didn't go there to argue or fight. I just wanted peace, but soon realized that wasn't going to happen unless I was secluded from those that were determined to argue and fight. Arguing with former friends, slinging dirt back and forth was something I could have done in Miami not there. And what ever happened to the "G Code"? Whether the validity of things being said about me was true or false, as a friend there are certain things I would NEVER do. If you tell me something in confidence friend or foe, whether I don't speak to you 20 years from now I will respect that and you will never have to worry about me repeating a word. The funny thing about arguing is choosing your words wisely because you can never take them back especially with millions of viewers watching. Although I have been through a number of emotions regarding my friendship with Evelyn dissolving, I have not and will not participate in the mud slinging. Over 10 years we have shared good times, bad times, marriages, engagements, break ups, moving, vacations, holidays together, wins, loses and much more. As we all have witnessed before, unfortunately our relationship has not survived the pressures and effects of a reality show and all that comes with it. As difficult and hurtful as it may be, I will continue to be resolute with my decision to respect what our friendship was and not where is has gone.
....
Even though this has been a trying season, I hope at some point my cast mates can get along and be civil with one another. I will always appreciate Basketball Wives Season 4 and this time in my life for the abundant lessons learned and personal growth I was forced to face. We all have our own individual imperfections, but I also believe we all have a good heart. As women of color it is important we uplift and support one another. I wish all my cast mates continued success and best wishes with their future endeavors.

Regarding the stories around the net saying 'Jennifer Williams is waving goodbye to Basketball Wives,' her reps exclusively told TheYBF.com those reports are false, saying:
"Jennifer is not saying goodbye to the Basketball Wives series. Her blog was meant to clarify where she stands in regards to the drama that took place during the season finale in Tahiti, not as a goodbye letter."
So....see you on season 5 Jen!
Revisit the drama here:
Tune in next Monday 8pmET for part 1 of the reunion special of "BBW."
BONUS.......
Things aren't looking good for Terrell Owens as he recently got kicked out of the Indoor Football League on Tuesday, where he played for the Allen Wranglers.
T.O. was signed to the franchise (based outside of Dallas) with a six-figure salary and an ownership stake in the franchise but now he has pissed all that away! Owner Jon Frankel said,
"Our fans are amongst the best in the league, and it is impossible to maintain a player when even our fans notice and comment on a player's lack of effort both on and off the field. We need to do what is best for this team, our fans and this community. It's disappointing and unfortunate,"but (he) could no longer be tolerated by the Wrangler organization."
The breaking points were his refusal to play in two upcoming road games and a no-show for a scheduled appearance at a local children's hospital. Sigh....
We hate to hear that T.O. messed up this opportunity. Lord knows he needed the money.