NEWS: Exonerated Football Player Brian Banks LANDS Try-Outs With FOUR NFL Teams
May 31 | by _YBF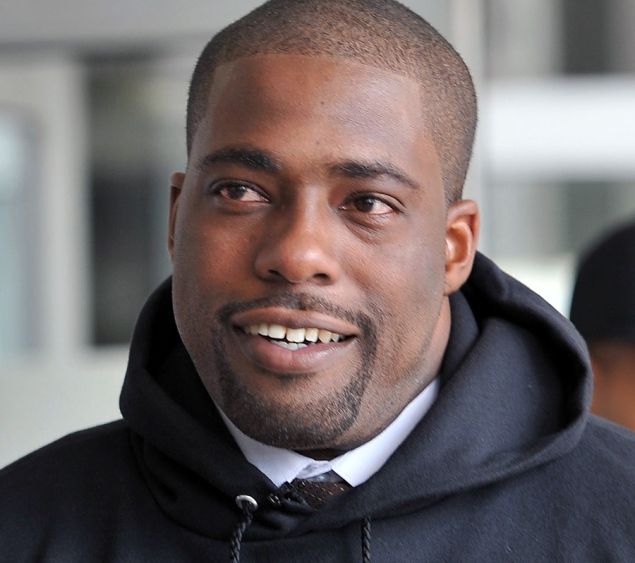 Brian Banks, the just released man who made national news after being falsely accused and convicted of rape when he was 16, is now getting his shot at the big leagues (10 years later). He landed four try-outs with NFL teams. Get the deets on his anticipated "comeback" inside.........
A little backstory first in case you missed it:
Briak Banks' life story is prime material for a "Movie Of The Week," and he hasn't even gotten to the best part yet. In 2002 when he was a sixteen-year-old Long Beach high school student, Brian was accused of rape by a girl he "made out" with inside the school's stairwell. And despite a lack of DNA evidence and the alleged victim changing a few parts of her story, he was convicted of the crime. In fact, it was his initial lawyer who advised him to plead "No Contest" to the crime. Brian revealed to the media recently:
"She told me I was a big black teenager and no jury would believe anything I said."
Brian then served five years and two months in prison and spent another five years on probation for a crime he didn't commit. But surprisingly, he was not bitter and credits that to his relationship with God.
One day out of the blue, the girl who falsely accused him of rape requested to be his friend on Facebook. Brian says he then had a talk with God and realized this may be a way to clear his name.
He began talking to his accuser and secretly recorded their conversations and her admission that the "rape" was a lie. Once the tapes found their way to the judge who handled the case....Brian was exonerated.
And it gets better.......
Before his jail stint, Brian was a promising football player and had many colleges interested in him. Now......he's getting a second shot at following his dreams as four NFL teams (Seattle Seahawks, Kansas City Chiefs, Washington Redskins, Miami Dolphins) have agreed to bring Brian in for tryouts.
Brian has been working out six days a week in preparation for the teams. He told ESPN, "Let me show you what I can produce, I think that any team that gives me an opportunity will be really impressed with what I can do."
When asked about everything that happened, Brian said, "It's been a struggle. But I'm unbroken, and I'm still here today."
Regardless of whether Brian makes it to the NFL, this is going to be a great comeback story.
SIDEBAR: The accuser, Wanetta Gibson, and her family were awarded $1.5M after the trial after suing the school district for "failing to provide a safe environment." Wanetta told Brian she didn't want to "go on record" admitting the lie for fear that her family would be asked to return the money. For now, authorities in Long Beach say there is no official investigation into Wanetta's conduct. But in the end, she isn't living the high life. Court reports suggest she has few assets and spents years on public assistance!
Watch Brian's documentary below: