She's back on a movie set! With her major debut movie Battlefield still in theaters, Rihanna jetted to New Orleans this week to shoot a brand new comedy called The End of the World (formerly called The Apocalypse). And we've got pics of the hot bodied chick on the set rocking her fave look--the shortest shorts in her suitcase and a revealing crocheted top. Pics inside...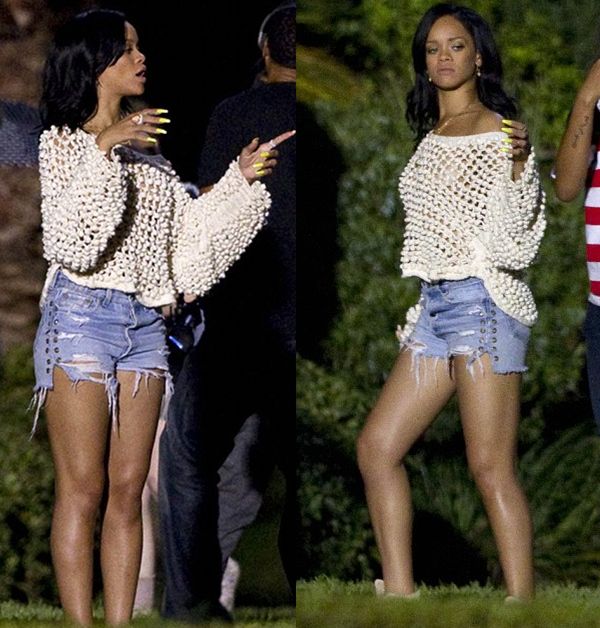 The flick is starring funny folks Seth Rogen (who also wrote and is directing), Michael Cera, Jason Segel, Jonah Hill, Craig Robinson, Mindy Kaling, Aziz Ansari & Harry Potter's Emma Watson.
IMDB reports the plot as:
While attending a party at James Franco's house, Seth Rogen, Jay Baruchel and many other celebrities are faced with the apocalypse.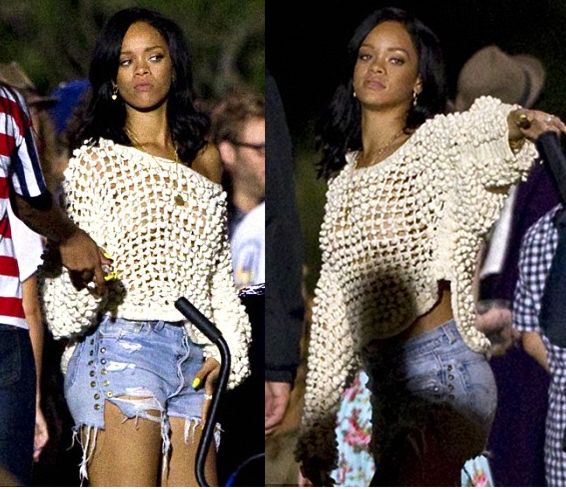 In the scene being shot above, Rihanna and Emma Watson are running out of co-star James Franco's house party because suddenly, of course, the end of the world happens. All the co-stars are funny as hell, and reportedly they are all playing themselves, so this should be a good look for Rih. And it sounds like Kevin Hart drops by for a cameo as well as Rih tweeted a couple hours ago:
Just leaving set! Kevin Hart clearly has childhood issues! Lolololol ! This has to be one of my favorite moments in life #endoftheworld
The film is set for a June 14th, 2013 release.
Pics via Splash