Boxer Floyd Mayweather Jr. turned himself in yesterday to begin a 3-month jail stint in Las Vegas for assaulting his baby mama back in 2010. Get the deets inside....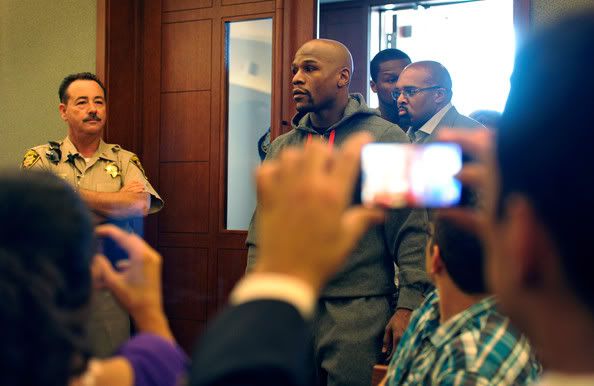 We told you earlier about Floyd Mayweather Jr.'s conviction for assaulting his baby momma, Josie Harris, in front of two of their children in September 2010. Yesterday, Floyd turned himself in at the Clark County Regional Justice Center to begin his 3-month jail stint at the Clark County Detention Center (minus 3 days for time already served) in downtown Las Vegas.
Prior to turning himself in, Floyd has been on fairly good behavior, even being credited by Las Vegas Justice of the Peace Melissa Saragosa with attending weekly domestic violence counseling sessions.
His BFF rapper 50 Cent commented on the situation saying, "He'll be all right. It's an uncomfortable situation for everyone. Everyone has a different version of the same story. It's no different than anyone going through a divorce and how your friends can become your vested enemies."
And don't assume that Floyd will get the star treatment from his prison mates. He'll be housed in a solo cell (with no television) and will only be allowed out for one hour day. Depending on his behavior, he could eventually be granted a few hours of exercise everyday with other inmates.
Photos via David Becker/Getty Images North America