LOVE IS IN THE HOOPS: Amar'e Stoudemire's Fiancee' Alexis DISHES On Their Engagement & Love Story
Jun 12 | by Natasha
Alexis Welch has now been thrust into the spotlight as the newest NY Knick soon-to-be wife-of-the-moment. (Will LaLa pass her the playbook of how to turn this into a reality show?) So the 29-year-old, seen above in a black Michael Kors gown at the 2012 Met Ball last month, is dishing about the love of her man Amar'e Stoudemire and their Parisian engagement for the world to hear.
Check it inside...
In a recent interview with the NY Post, Amar'e new fiancee and mother of their three kids, Alexis Welch, is letting folks in on who she is.
In case you didn't already know, the twosome met 10 years ago at the ripe age of 19, right after Amar'e was drafted to the Phoenix Suns fresh out of high school. Alexis was a three sport athlete herself on high school, and said she was excited to meet a 6'11 guy who was still taller than her 5'10 self even in heels.
The twosme met in a private room of a Nelly party in Phoenix (where Alexis was living at the time). Since they were underage, they were kept in a separate back room. Convenient.
"Since we were both 19, they put us in a private room in the back of the club. He was wearing a Kansas City Chiefs Joe Montana jersey," says Welch. "I'm originally from there, so we started talking about Montana when he played there."

"I've always liked guys who were taller than me when I wear heels."
And about their early years of dating and Amar'e meeting her family:
"We were both really young, so we went to a lot of movies. I would make him dinner, and we would just spend time together. We would talk all the time," says Welch, who recalls Stoudemire raising his eyebrows at his first Thanksgiving meal with her family.

"We're a cooking family. We had some good old-fashioned mac and cheese and greens. [And] he put sugar on his greens," she says with a giggle. "It was his Southern [Florida] roots shining through."
Ever since Amar'e was traded to the NY Knicks back in 2012, the two kept their relationship going. And we do find it interesting there was no mention of his relationship with Ciara. At all. Alexis did admit it's hard for her to get used to the flashing lights and fast life saying,
"We were standing close to Beyoncé [at the 2012 Met Ball], but I was too nervous to introduce myself. Everyone has a wish list of celebrities [to meet]. She's on there. But now, her husband is the owner of the Nets, so there's a little bit of a rivalry going on."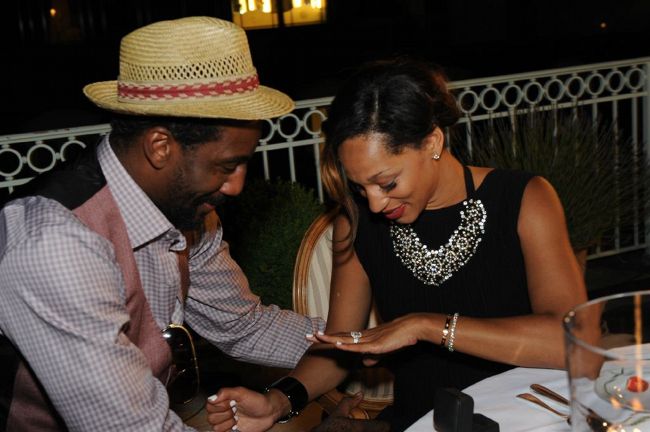 Alexis gave even more details about Amar'e's uber romantic proposal. She revealed:
I'm usually on top of everything, but he got me. We were going to France to visit Cognac [area]," says Welch, who describes a whirlwind trip of cognac tasting, plus a jaunt to Paris, where they stayed in the royal suite at Le Meurice Hotel Belle Etoile, went to the Louvre and took in a Kanye West and Jay-Z concert.
On their last night in the French capital, she says, "We went back [to the room], and there were rose petals leading to a balcony with a 365-degree view of Paris. We walked out to the twinkling lights of the Eiffel Tower.
"He had an acoustic-guitar player. He had a saxophonist. This is another side of Amar'e that people don't get to see. I'm just getting teary-eyed talking about it."
Awww. And the bride-to-be said they flew home the next morning to tell the kids who were equally excited. Alexis says she and the kids are packing up to move to NYC, and says all three kids gave athletic lives of their own:
"Our oldest daughter dances competitively and cheers for our son's football team. Our son plays football and basketball. Our youngest is still figuring out her sports," says Welch.
And as for how she's getting along wit the other Knicks wives and girlfriends, she says they are a "nice group of women." And she has most in common with Tyson Chandler's wife, Kimberly, as she has 3 kids as well.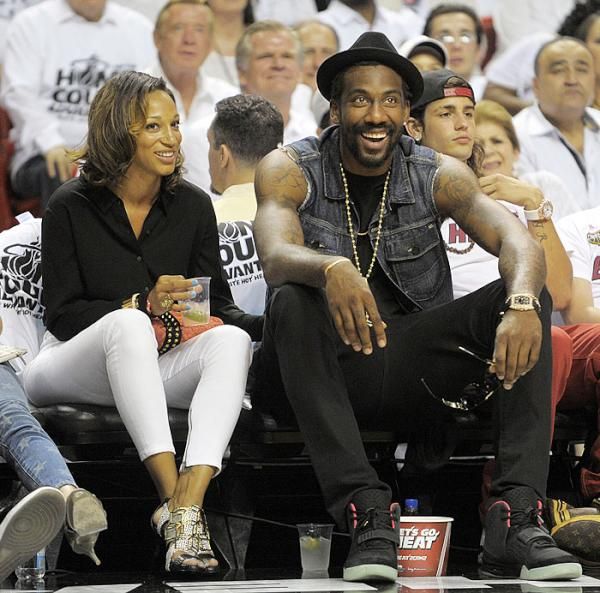 And as for that Joe Montana jersey Amar'e was rocking on the night they met, Aleixs says she's getting that piece framed and mounted for their new home. Not even mad at that. Congrats again to the couple!