Chris Brown & Drake's Fight Night UPDATE, Drake Says He Never Physically Attacked Chris
Jun 14 | by Natasha
As the love triangle turns...
Kinda. Check out the updates on Drake & Breezy's big NYC fight night and Drake's interesting statement that he wasn't involved in the physical brawl in the club....
Drake's rep has now issued a statement that the "Take Care" rapper had nothing to do with the physical fight that went down inside of W.I.P. nightclub last night in Manhattan. Why? Because he supposedly was walking out of the club as the bottle throwing brawl was taking place. Other sources still confirm Drake & Chris (and Drake's MMG homie Meek Mill) indeed got into a war of words, though, right before the fight.
Drake did not participate in any wrongdoing of any kind last night at W.i.P. He was on his way out of the club when the altercation began. He did not engage in any activity which resulted in injury to person or damage to property."
I personally am taking this "rep" and his statement with a grain of salt as he very likely wouldn't admit to his client partaking in the lameness of fighting in a club...over a chick. Wouldn't be the first lie or twist a rep has told.
TMZ says their sources say the argument had nothing to do with the chick both of them have dated--Rihanna. Despite the fact Chris & Drake have previously exchanged many-a subliminal tweet and there has been tension building. Their sources also point the finger at rapper Meek Mill (pictured below with Drizzy) as the culprit who hit Chris with a bottle, which Meek has previously denied.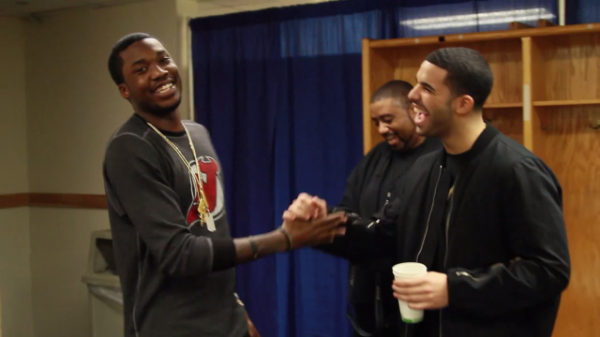 Drizzy was spotted leaving The London hotel (The London is the NAME of the hotel) on his way to the club before the crazy night, and he had several bodyguards in tow. That must have been who Chris was talking about when he accused the unnamed fighter of hiding behind his people.
By the way, NYPD, who showed up to the club after several calls around 4am, confirms an altercation between the two camps indeed took place. No arrests were made. Chris' SUV was spotted outside the club late last night with blood dripping down the door handle.