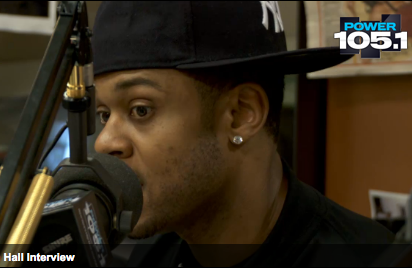 Maybe BET isn't taking Pooch Hall's telephone calls anymore, so he visited "The Breakfast Club" and rocked out a freestyle revealing he wants to return to "The Game." Get the deets inside.....
Although BET released a statement saying Pooch Hall would not return to "The Game," Pooch says that he willing to work something out with BET. Which further lets us know this is more than just a money issue and leaving wasn't necessarily Pooch's decision.
He told The Breakfast Club that he is still open to negotiations with BET, but they must allow him to also work on Showtime's "Ray Donovan." Not sure why this would be a problem since Coby Bell (Jason Pitts) has also played a substantial role on USA's "Burn Notice" for years. And Tia Mowry has done her own reality show and a few tv movies during her time on "The Game."
Pooch expressed his thoughts about the situation through a long freestyle which ended with him saying "I can't say what's going on with BET/But Pooch Hall is ready."
The interview seemed to be Pooch's way of making a public statement to the network that he wants to have a future on "The Game. He said to fans, "I'm just going to tell the fans have faith. It's being worked out….I want to come back and don't be surprised if I do come back."
He then spoke about his budding rap career and building his brand saying, "I want to be up there with the Will Smiths."
And though he seemed uneasy during the interview, he kept repeating "I am not afraid" as if he is in a battle for his career. Interesting.....
Watch the clip here: