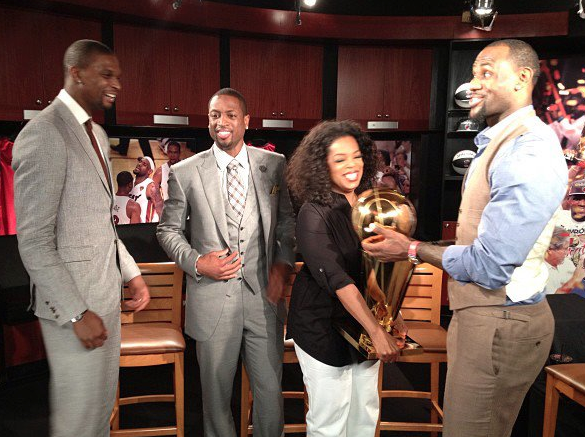 Oprah Winfrey has announced that she'll interview the Big 3 of the 2012 NBA Champions Miami Heat next week. Get the deets on her sit-down with LeBron, Dwyane and Chris inside.....
On the heels of a rating surge, "Oprah's Next Chapter" continues to bring the "MUST SEE" interviews as she sits down with NBA champs LeBron James, Dwyane Wade and Chris Bosh next week at 8 p.m. Sunday on OWN.
Lady O's OWN said of the interview, "Winfrey will talk with the world champions about the challenges leading up to their historic win, their friendships on and off the court and the women in their lives."
The interview will be taped at Miami's American Airlines Arena. Will the wives and girlfriends make an appearance...since O is all about ratings these days and all? This will be interesting...
The Randomness:
1. The NBA will "review" whether Amare Stoudemire tweeted a gay slur to a fan. Story.