EXCLUSIVE: Matt Barnes & Gloria Govan Confirm They're NOT Engaged, Meeka Claxton & Somaya Reece Throw Shade At Reality Show Producers
Jun 28 | by Natasha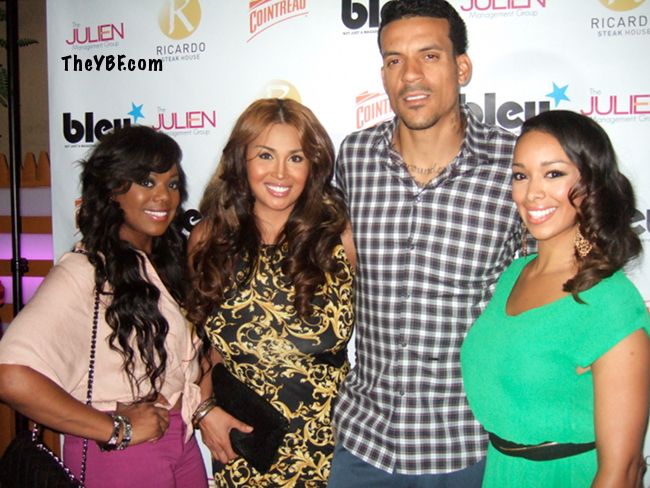 "Basketball Wife LA" star Gloria Govan was front and center at her man Matt Barnes' BLEU magazine cover party in NYC Tuesday night. And even though they are back together, the twosome confirmed to TheYBF.com there are no plans to head down the aisle...yet. Check out our exclusive pics and chit chat with the couple and Meeka Claxton and Somaya Reece inside....
Ms. Gloria was indeed glowing at her man's BLEU magazine event Tuesday night, but it's not because of an engagement. TheYBF.com was on hand at the private party at Ricardo's Steakhouse in NYC to celebrate Laker baller Matt Barnes' new cover.
And while Gloria did confirm the two are back on and making improvements in their relationship...she's NOT engaged. She tells us the rumors that swirled back in April were false.
The cast has been taping the new season of "BBW LA" for about a month now. And Gloria tells us that a few new faces DO pop up this season on the cast. As for who's returning--definitely her sister Laura. And even though she didn't appear too thrilled about it--Jackie Christie.
As for what Gloria, who was involved in her own fair share of drama on her own show, thinks about the backlash of the original Miami cast of "Basketball Wives," she doesn't watch, but feels that it's "a bit out of control and immature."
That about sums it up. More pics of Matt & Gloria boo'd up at the BLEU event: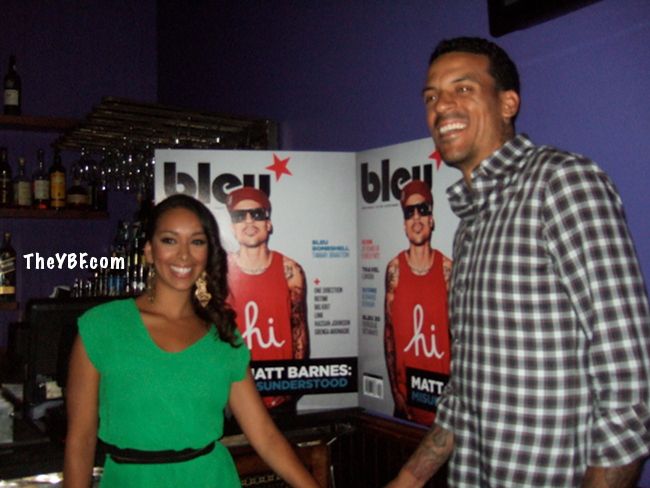 Reality chicks Meeka Claxton and Somaya Reece (along with Al Reynolds) also came out to support. The two reality chicks also gave us their 2 cents about being pissy with the producers of their shows.
Former "Basketball Wife" Meeka says Exec. producer/cast member Shaunie O'Neal is "full of it" about wanting more positivity. She said they taped plenty of positive footage that producers did not use because negativity is what gets ratings.
As for whether Meeka watches the show since being given the boot? Absolutely not. She made it very clear that she doesn't want to give them ratings. She says, though, she "has no regrets." Up next for the self-proclaimed businesswoman? Working on a fashion line for young girls. Of course.
And "Love & Hip Hop" star Somaya Reece looking fabulous after breast reduction surgery and a hardcore workout/dieting plan, had some words about her own show's producers. She revealed she was "really disrespected" because they barely had her on this past season. So she's not sure she's returning for the next one.
She did confirm, however, that co-star Chrissy Lampkin is currently filming a spinoff show with Jim Jones. And Somaya is close to finishing her rap album.
Pics/Correspondent: Shayla Sommerville