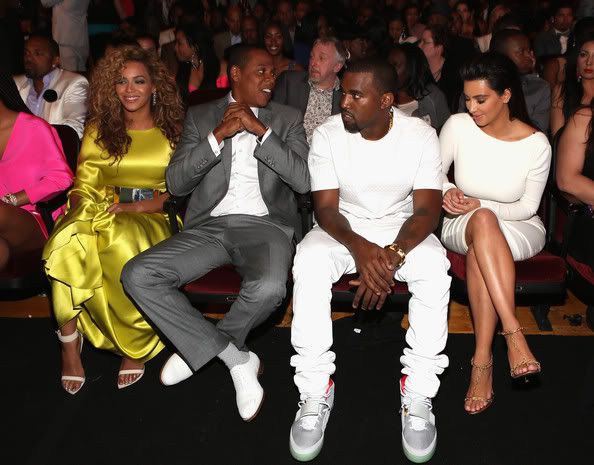 LaLa Anthony was among the fab YBF folks seen walking the red carpet in LA for the 2012 BET Awards red carpet. See pics of LaLa, Rick Ross, 2 Chainz and others on the carpet while Beyonce, Jay-Z, Solange and Kanye West and Kim K. held it down inside the auditorium.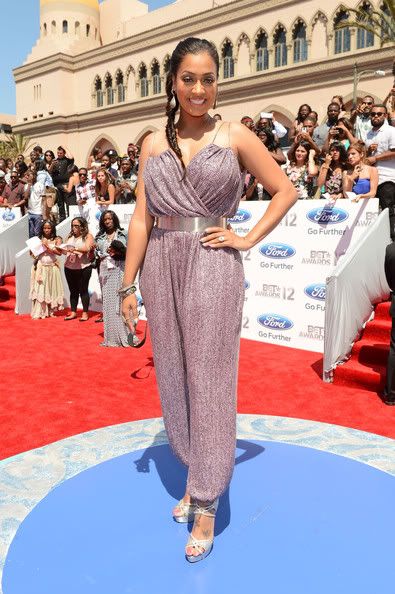 Wearing a shimmery jumpsuit from the Lois London design house, LaLa Anthony was among the first of the fab celebs to walk the red carpet for the 2012 BET Awards Red Carpet. Can't decide if we're loving the look..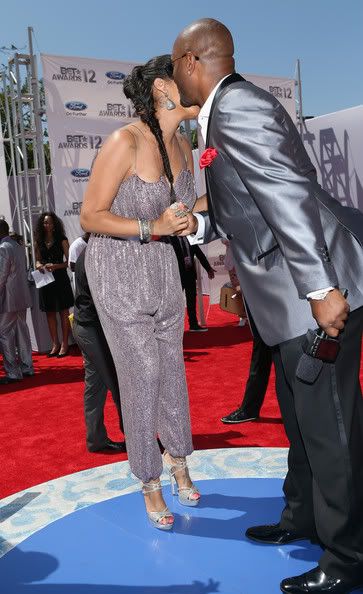 She got a big kiss from Big Tigger, who rocked a custom Brian Keith suit, as he hosted the pre-show.
Inside the auditorium, Beyonce was spotted walking to her seat after the show started in a bright yellow high slit one sleeved gown. Post-baby bod still on point. Stunning.
Actress Tatyana Ali stung the crowd with her bumblebee inspired outfit.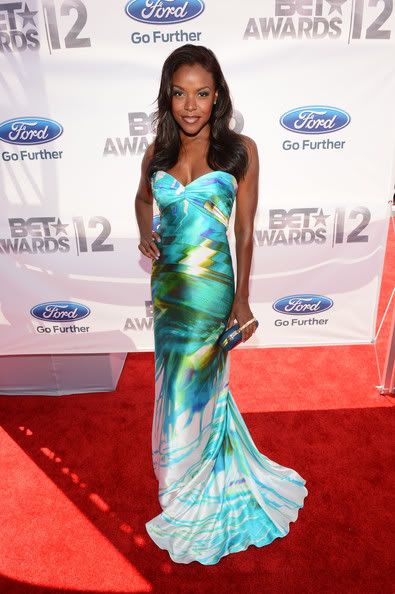 Nadine Ellis looked stunning in a THEIA summery printed gown from the Spring 2012 Collection.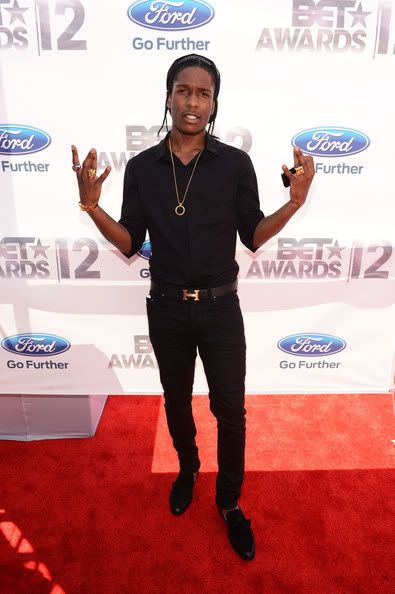 Rapper A$AP Rocky rocked his skinny jeans.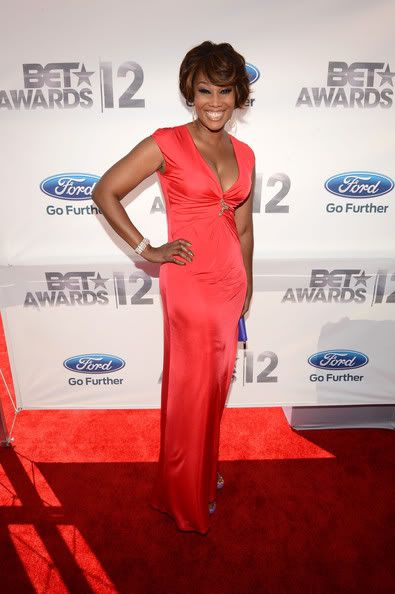 Yolanda Adams performed during a special gospel tribute during the show.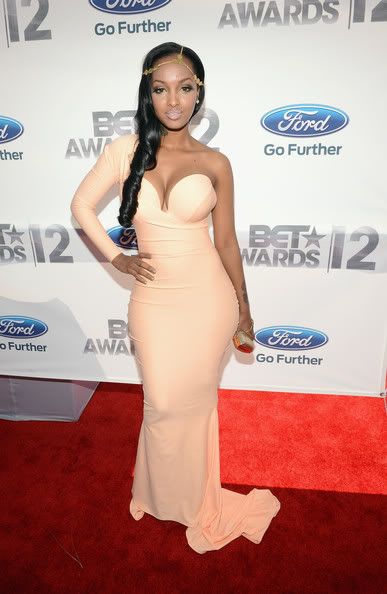 Rapper Lola Monroe showed off her assets. And for once, we're actually feeling the dress on her.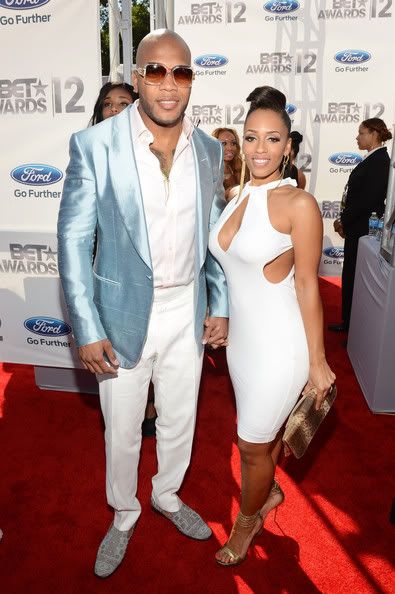 Flo Rida arrived with his new-new boo Melyssa Ford. Told y'all they reunited.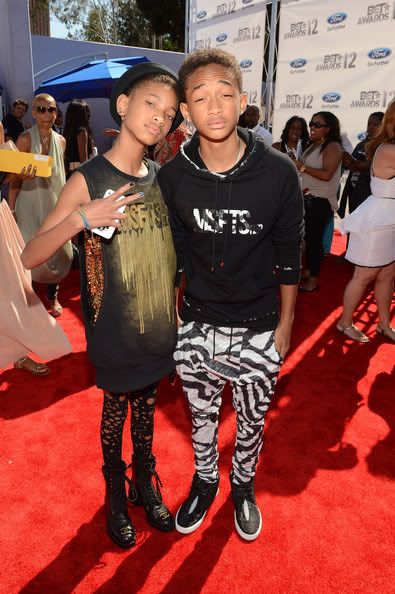 Jaden and Willow Smith posed on the carpet together.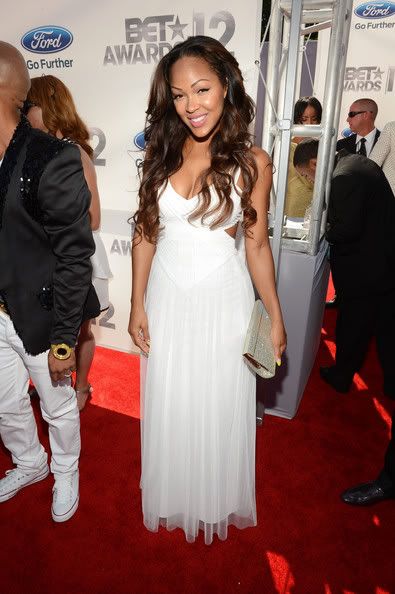 Newlywed actress Meagan Good wore a gorgeous white dress from BCBG. Hope she doesn't become the new LisaRaye with all this white. And still hate her for having this ridiculous perfect and flawless skin. She looks amazing.
Of course she posed with her new husband DeVon Franklin.
Rapper Tyga was there...in a leather shirt.
Monica posed with her husband Shannon Brown.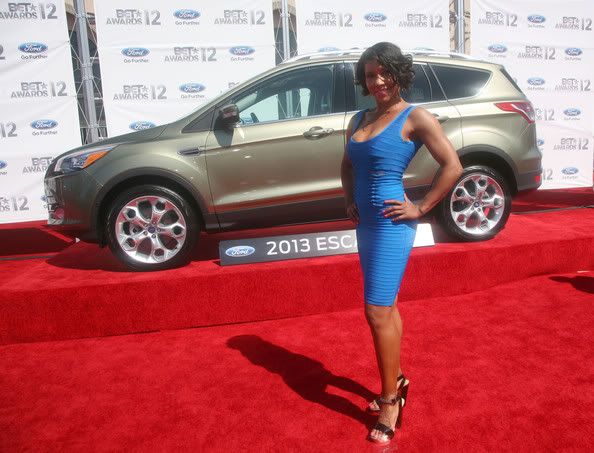 Celebrity Trainer Jeanette Jenkins showed off her stunning figure.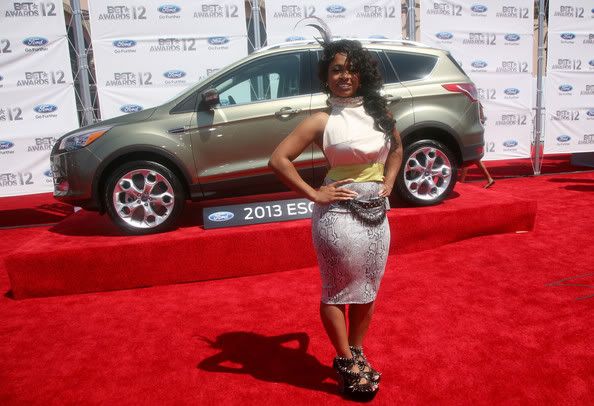 Hip Hop artist Shanell posed for Ford Motor Co. I see she's still trying...
Kelly Price was there decked out in red.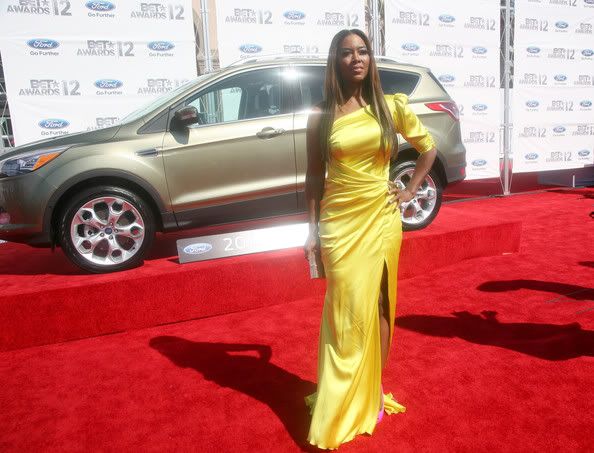 Actress Kenya Moore and possible "RHOA" addition also posed it up.
We loved BET CEO Debra Lee and her little black dress.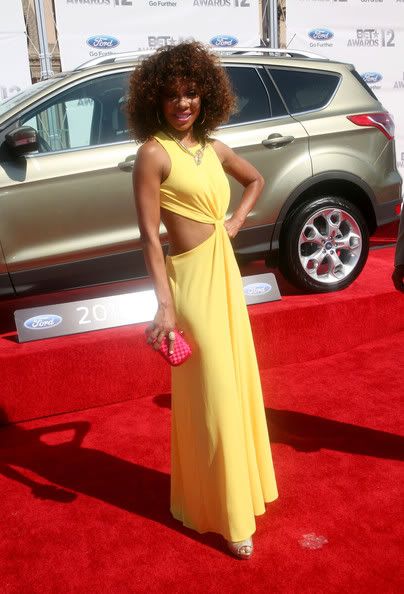 "The Game" star Wendy Raquel Robinson rocked big curls to compliment her yellow cut out BCBG gown for a gorgeous look.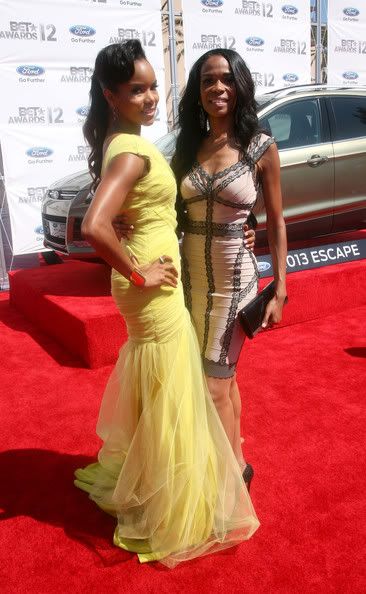 Singers Michelle Williams and Letoya Luckett posed together.
Rapper Common walked the carpet.
Tyrese, Ginuwine and Tank announced their new TGT group and upcoming tour.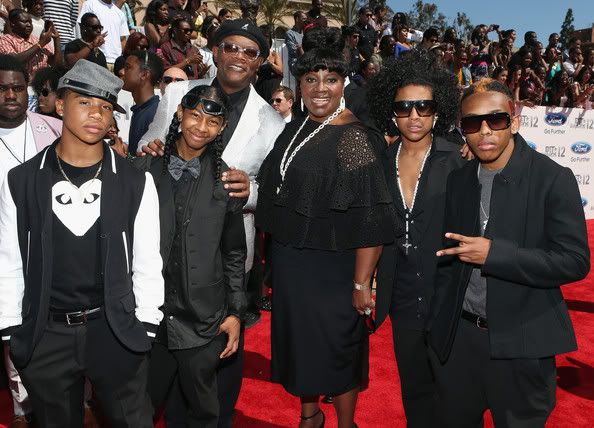 Mindless Behavior posed with Samuel Jackson and wife LaTanya.
Model Toccara Jones a triple anomal print look that I think we're loving.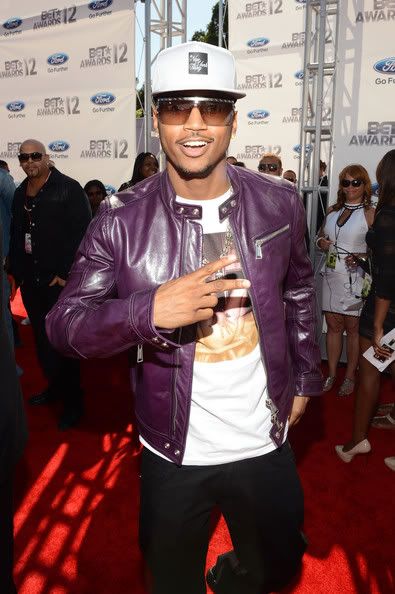 Trey Songz turned heads on the carpet.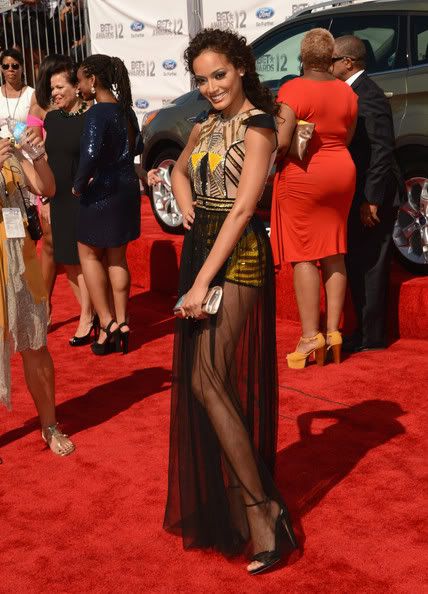 Model Selita Ebanks was there in a sexy Falguni and Shane Peacock dress with Giuseppe Zanotti shoes & handbag. Fabulous risk-taking look for her.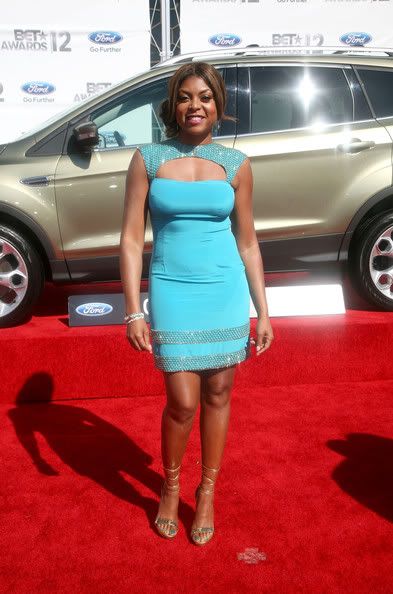 Taraji P. Henson was a presenter during the show.
Actor Jamie Foxx was seen rocking a full beard.
Rick Ross and the Maybach Music Group (including Wale) were spotted arriving.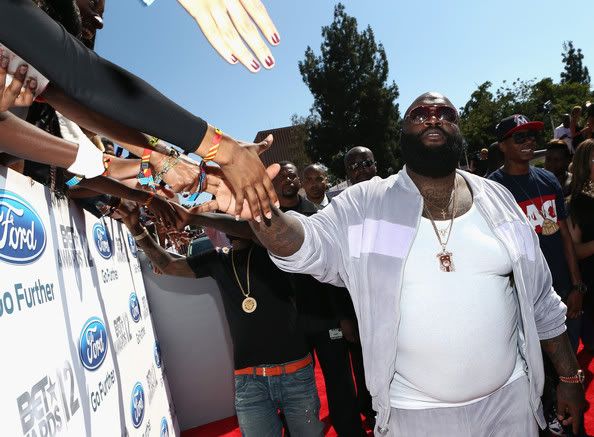 Rick Ross kicked it with Jermaine Dupri outside the auditorium.
Hey JD!
Rapper 2 Chainz hit the carpet with his white cup.
Terry Crews arrived with wife Rebecca.
MC Lyte held down the voice overs for this year's show.
Miguel donned an all-red 3 piece look.
Regina King had on our least fave look of the night. Nt even sure where one would find these pants.
Rocsi Diaz co-hosted the pre show alongside Tamar Braxton & Terrence J., and was spotted yesterday making the rounds with boo Eddie Murphy.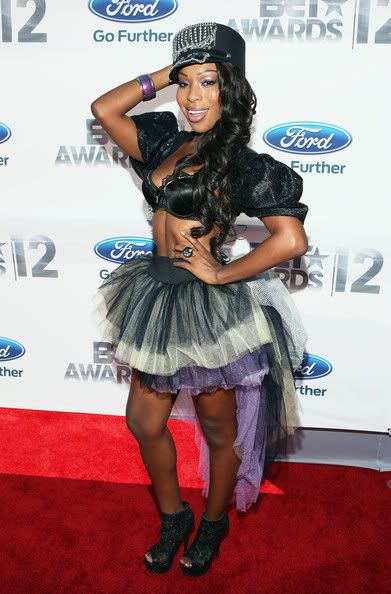 Actress Porscha Coleman went for a "memorable" outfit. This ish is horrible actually. Even if it was Halloween.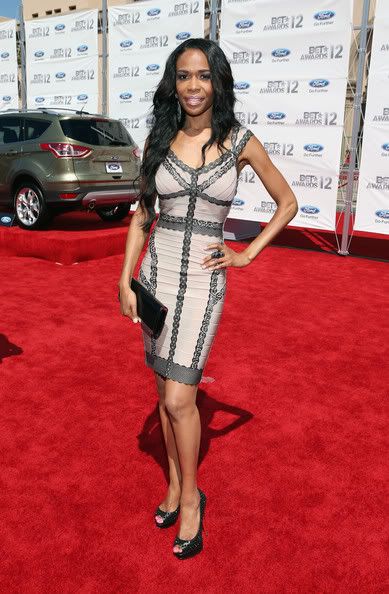 Michelle Williams chatted with her fans on the carpet. Looking great 'Chelle!
"R&B Divas" star Faith Evans made her rounds...in cheetah print leggings.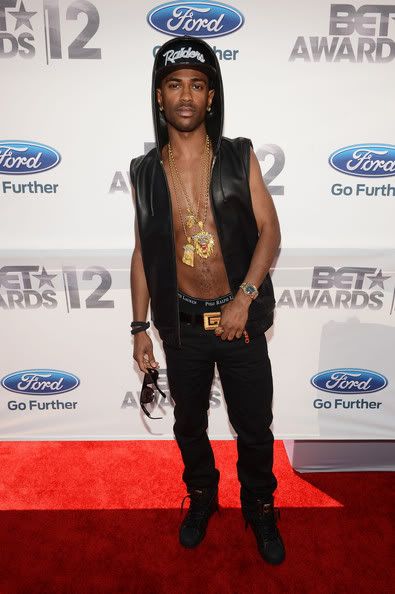 Rapper Big Sean walked away the 2012 Best New Artist. This open leather vest though to reveal the non-bigness (well, not there at least) is killing me.
Host Samuel Jackson walked the carpet with wife LaTanya Richardson.
"The Game" star Hosea Chanchez rocked a royal blue suit.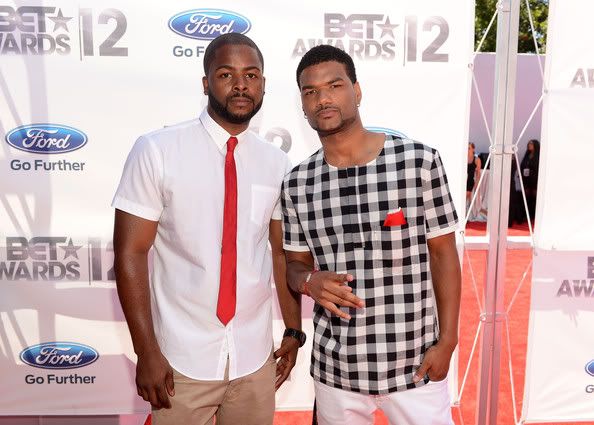 Craig Wayans and Damian Wayans walked the carpet together.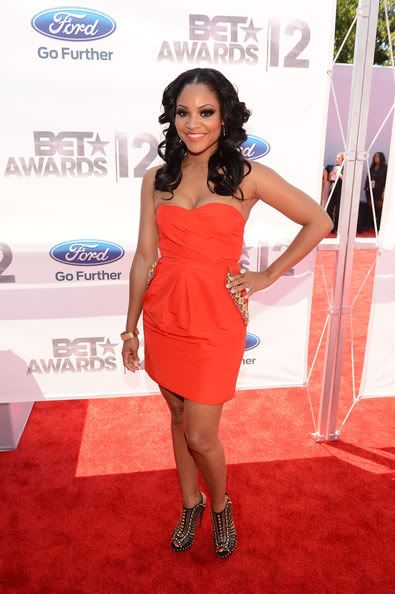 Actress Erica Hubbard wore a bright orange gown.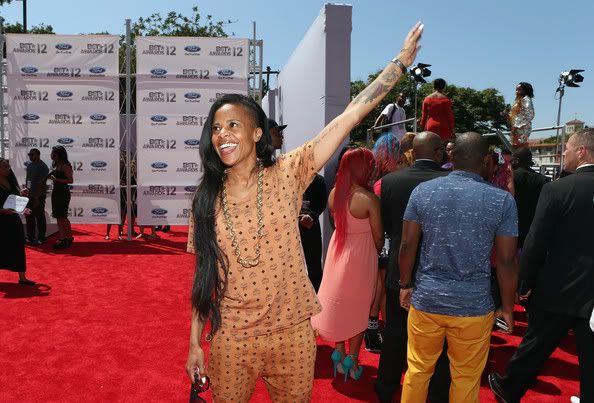 Nadine later posed with Laurieann Gibson, who rocked an entire MCM outfit and looked like a walking handbag.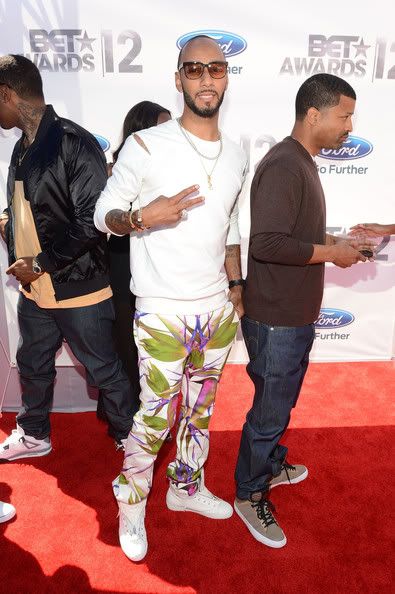 Swizz Beatz was seen arriving in his island jungle inspired pants.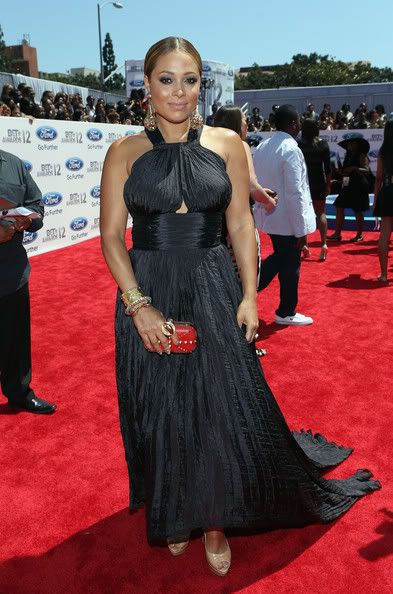 "Beautiful Surprise" singer Tamia rocked a black Oscar de la Renta gown with a red Alexander McQueen jeweled clutch. Loves the look.
Crooner Kenny Lattimore kept it cool in all white for the carpet.


Rev. Al Sharpton posed with LaTanya.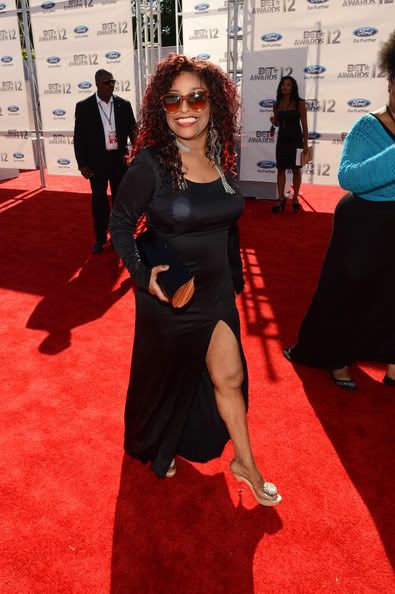 Slim, trim and sexy Chaka Khan walked the carpet revealing her slimmer frame.
Taraji P. Henson posed it up with her co-star Kevin Hart.


A very dapper looking Ray J. was also spotted on the red carpet.
Angela Bassett wore a cap sleeve scalloped v-neck black lace cocktail dress over midnight satin from THEIA's Fall 2012 Collection.
Photos via WireImage/Various