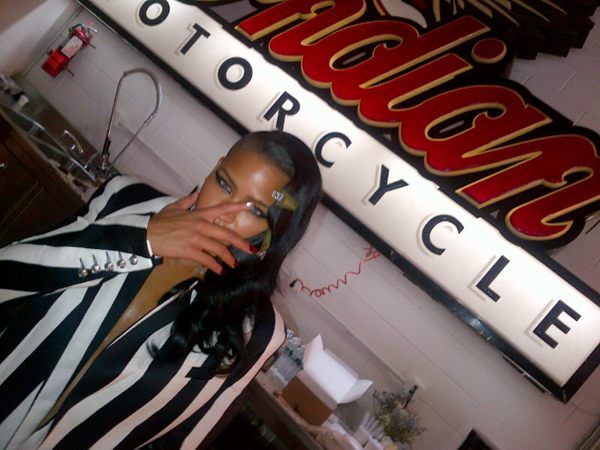 Cassie was a busy lady over the weekend. The model/singer announced her upcoming mixtape, Rock-A-Bye baby via a letter to her fans, rocked a new photo shoot (sneak peek inside) and exchanged lovey dovey tweets with Diddy. Looks like these two have no problems going public with their love these days.....
Over the weekend, Cassie seemed to be missing her boo (and boss) Diddy. And decided to post her feelings on Twitter saying:
I miss my Pop Pop. I feel incomplete
Diddy--her Pop Pop apparently--responded:
@CassieSuper miss you too! :) meet me in Bora Bora! haaaaa ;) 4real doe! see you soon CC :)
Meanwhile, Cassie tweeted the above hot pic--in a black & white striped Balmain look--while on the set of a new photoshoot. She also annonced she's gearing up for a new mixtape to offer her fans, since they have waited so long for her Electro Love album. She says the sound is purely her whatever that means). A snippet of the letter:
I'm working simultaneously on my album and my Mixtape/EP. I know you all are wondering, Mixtape, huh? Well... I think the best we can be as human beings is to be resilient, right? I'm now at Interscope still with Bad Boy, which is amazing. I have GREAT new management that you'll find out about soon and everything is FINALLY falling into place the way it's supposed to, but one thing is missing. The music being delivered to you. Now, we all know that this album has been years in the making. Creating, starting over, changing, leaks, growing, starting....never stopping :) BUT I wouldn't change any minute of it. You get a better version of me for being so patient. This additional project is for you guys. My Mixtape is called Rock-A-Bye Baby, don't take it so literal... Lol. You'll see why. I am so proud of this project. It's not pop, it's not R&B, it's Cassie. It's why you fucked with me in the first place. I love you guys and your continued love and support. I'm a lucky girl. So.... don't get frustrated OR upset with me!!! Okay??? ;)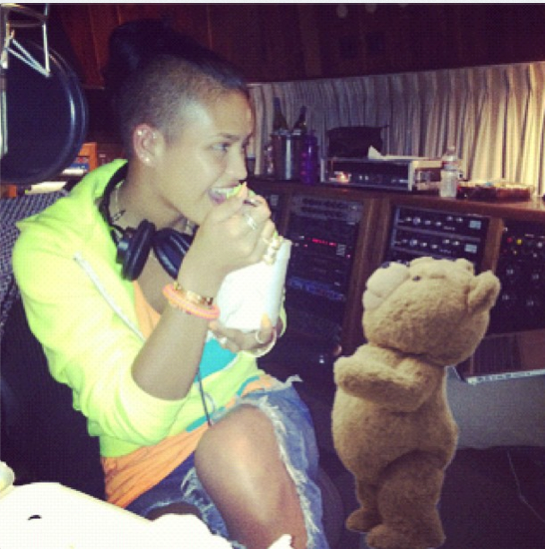 Cassie also revealed she just wrapped a track with Ester Dean (pictured above in the studio with a superimposed TED while working with Ester) and is finishing up another track with will.i.am. She said:
@esterdean caught Ted and I chillin' eating Ramen noodles in studio LOL
Fun times.
The Randomness:
1. Usher files a restraining order on alleged stalker who keeps popping up at his home in Georgia claiming to be his wife. Mad it took this long. STORY