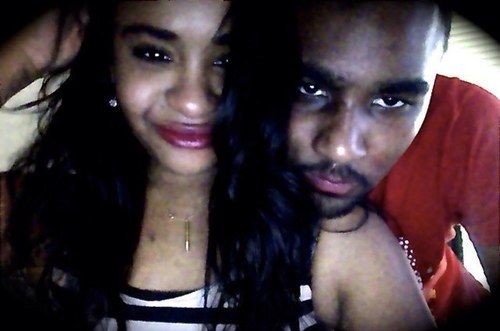 Bobbi Kristina Brown took a bit of a hiatus from Twitter for the last 4 months. And now she's back...Tweeting her love for her fans and her boo (we guess) Nick Gordon. She changed her avi to the above pic of the twosome as well.
Deets inside on that....
Bobbi Kristina Brown had a successful stint on Tyler Perry's "For Better Or Worse" sitcom recently, so she's back on Twitter thanking all her fans for the love. Especially her biggest fan, her godbrother/lover Nick Gordon.
After taking a bit of a twitter hiatus in March, Krissy started back tweeting recently and clearly was holding in some mushy thoughts. She wants everyone to know she has taken on the responsibility of carrying n her mother, Whitney's, legacy and she and Nick Gordon are in this together. Here's a few of her recent tweets:
@nickdgordon I loveyoumore my darling. So much is an understatement.. Man, baby what we wouldn't give for just a second right? WELOVEUMOM!

I just want to thank you ALL for your support & love on my debut tv show #ForBetterOrWorse ! Every Friday on TBS 9 pm ! Loveuallthnkuagain!

All of Urlove is phenomenal . thankUAllagain. WeTRULYappreciate it . @ndgordon ;; I love&missUmommy .. Everystep I have u in mind;; #always.

@nickdgordon (:thankUboo! You know your opinion means thee most to me.. Loveyoumuchjoint (: I wouldn't be where I am today without you #FACT

" All this mommy.. We do for us." We love you. @ndgordon #themusketeers #MYFAMILY never forget the moments we had&1's we'll make again1day<3

The legacy continues with me . @ndgordon #letsdothisbigjoint! Xxo

Relaxing with MY @ndgordon. Who I love so very much. Lol #ournightsaretheebest. We have fun just being us:) thnks4lovingme4me. AsIDoU!#alwys
Interesting. Whatever makes her happy, do you boo. Check out her small screen acting debut below:
She's also busy filming her new Lifetime reality show "Houston Family Chronicles" alongside her aunt Pat, Nick and other fam.