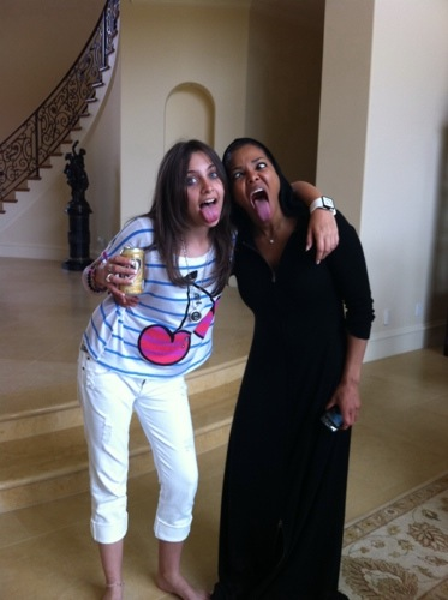 In the latest development in the Jackson compound hoopla, reports say, before the cops were called to the house yesterday for "battery" allegations, it was Trent Jackson who punched and head locked Randy & Jermaine. And it was Paris Jackson who got slapped...by Janet....
Reports says what we saw on the surveillance video earlier today was a big family spat. All before somebody in the house called the cops. Paris got slapped and cursed out by Janet, even though, supposedly, Randy, Janet & Jermaine had gone to the house to take Paris and her brothers to Arizona, where Katherine is "resting". Paris wasn't feeling it because she tried to avoid Janet. So this is what reportedly went down according to TMZ:
Our sources say at one point Janet tried to grab a resistant Paris' cell phone, a scuffle ensued and Janet slapped the teenager, screaming, "You're a spoiled little bitch!" We're told Paris fired back with her own slap and told Janet, "This is our house. Not the Jackson family house. Get the f**k out!"

At the same time, we're told Trent Jackson, who was at the house, tried to stop an aggressive Randy and Jermaine. We're told Trent put Randy in a headlock and punched Jermaine in the mouth.
Meanwhile, Tito just stated he's backing out of the plot to overthrow Michael's estate that he and his siblings agreed to. You know that letter they all wrote and signed last week and sent to CNN saying Michael's will is "fake" and Katherine had a mini-stroke? Not sure who--but somebody is creating some lying foolishness around that Compound.
Chile....