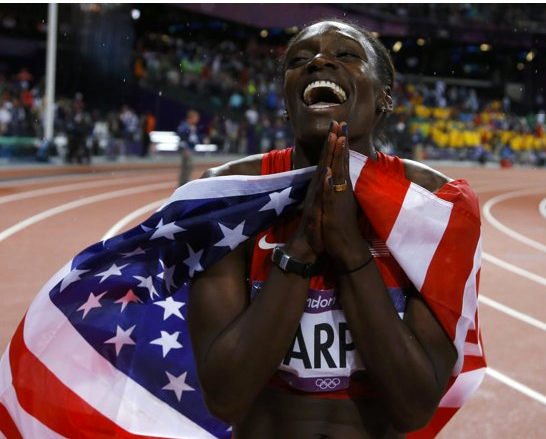 The YBF chicks are looking to dominate the track & field races in London. So far, both Kellie Wells and Dawn Harper copped medals during last night's 100-meter Hurdles race. And after their USA teammate LoLo Jones came in fourth, she went in on the media this morning about why she believes she's getting crucified for losing.
Deets inside...
In a super close race ending with Australia taking the Gold, TEAM USA also scored two medals--Dawn Harper taking the Silver and Kellie Williams taking the Bronze.
Dawn (pictured above) said about the race:
"When I leaned at the [finish] line, I looked over and that's when I finally saw her," Harper said of Pearson. "And I was like, 'Did I sneak? Did I just sneak and get past her?' I looked up, and I actually realized I didn't win when I saw her fall to the ground. I was like 'Dang it, she's happy. She just won.' "

"12.37 is not bad. I cannot be mad. I enjoyed the whole process."
The 28-year-old from East St. Louis, Illinois took the Gold in this same race at the Beijing Olympics in 2008. But silver is something to cheer for too!
And the Nike sponsored Hampton University grad Kellie Wells is just as happy about her bronze.
But LoLo Jones, who has become a celebrity due to her strong stance on her Christianity, saving herself for marriage and making a comeback after her Beijing Olympics bout, isn't happy.
She came in 4th, and she feels like people are on her case for it. Despite most media outlets being extremely supportive of her career and the fact she's a record holder who is doing big things on the track, LoLo feels like all media is against her.
The NYT did a profile on the 30-year-old a few days before the race and one point said, "Jones has decided she will be whatever anyone wants her to be — vixen, virgin, victim — to draw attention to herself and the many products she endorses."
The Times also quoted an academic who had a few words people deemed as scathing:
"It reminds me of Anna Kournikova," said Janice Forsyth, the director of the International Centre for Olympic Studies at the University of Western Ontario.

This was a reference to the former Russian tennis player whose looks received far more attention than her relatively meager skills.

"It's really a sad commentary on the industry Lolo is in," Forsyth said. "Limited opportunities are there for women to gain a foothold unless they sell themselves as sex kittens or virgins for sale. I don't know if this is Lolo being Lolo or part of a marketing scheme to remain relevant in an Olympic industry where if you are not the Olympic champion, you are nothing."
LoLo went on "The Today Show" this morning in tears (she was also in tears after coming in first in the qualifying race and said people are "hating on her") and stated:
"I think it was crazy just because it was two days before I competed, and then the fact that it was from a U.S. media," Jones tearfully told the Today Show following her fourth-place finish in the 100-meter hurdles. "They should be supporting our U.S. Olympic athletes and instead they just ripped me to shreds. I just thought that that was crazy because I worked six days a week, every day, for four years for a 12-second race and the fact that they just tore me apart, which is heartbreaking."

"They didn't even do their research, calling me the Anna Kournikova of track," she said. "I have the American record. I am the American record holder indoors, I have two world indoor titles. Just because I don't boast about these things, I don't think I should be ripped apart by media. I laid it out there, fought hard for my country and it's just a shame that I have to deal with so much backlash when I'm already so brokenhearted as it is."
Again, a huge percentage of media, us included, praise her for her talents. And never in history has every single media outlet adored an athlete. There will always be criticism, especially on the professional level that one chose to enter and get paid for. The real test is can you move past it and do what you came to do.