US sprinter Allyson Felix sprinter all the way to a gold medal in the 200 meters yesterday. Get the deets on this fab lady inside and see who else is bringing home medals to the USA....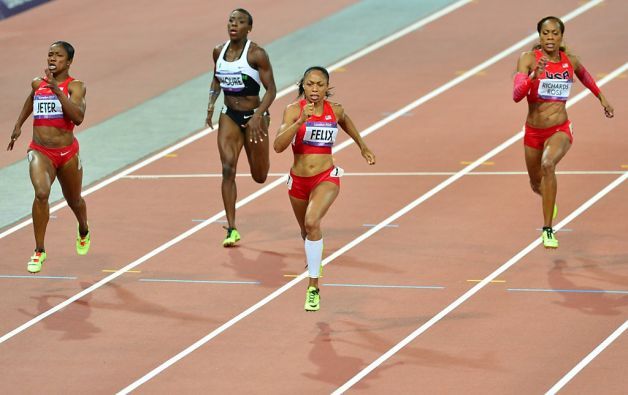 During the U.S. Olympic trials, Allyson Felix, 26, ran 21.69 in the 200m, history's fourth-fastest performance, making her a fan fav in London. And yesterday, the runner ran all the way to a gold medal in the race.
Though Allyson is a very decorated athlete, this is her first individual Olympic gold medal. Born and raised in California, she attended USC and describes her talent on the track as a gift from God.
She is coached by Bobby Kersee (the husband of legendary track star Jackie Joyner-Kersee) who also led Florence Griffith Joyner to gold back in the day.
The poised sprinter tweeted, I've been waiting for this opportunity for so long. Praying that His will be done, and not my own. Ready to run my HEART out.
Congrats Allyson! And major congrats to YBF Chick Carmelita Jeter (pictured above on far left) who grabbed the Bronze in the same race. She also grabbed the silver medal in the 100M Finals a few days ago. Sanya Richards-Ross, who already has 1 Gold, took 5th place in this race.
As for the fellas:
Aries Merritt copped the gold medal in the men's 110-meter hurdles yesterday.
His teammate Jason Richardson flew to take the silver in the same race.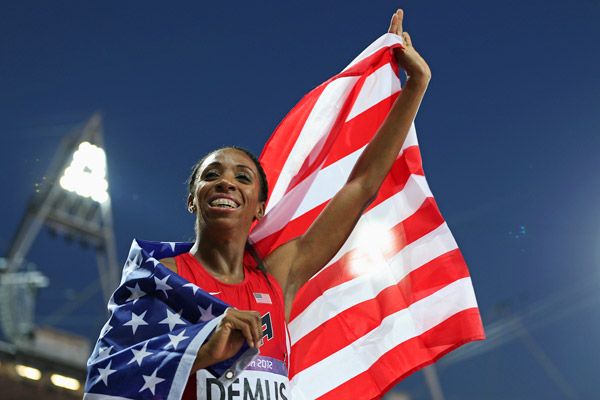 Comeback queen Lashinda Demus, who battled postpartum depression after birthing twin boys right before her disappointment at the Beijing Olympics, was overcome with joy when she grabbed the silver in last night's 400M hurdles.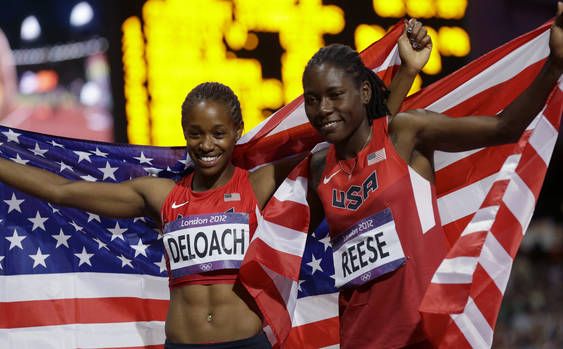 And it was a huge night for USA in the long jump competition. We took home two medals--Brittney Reese with the Gold (right) and Janay DeLoach with the bronze (left). Brittney is the first AMERICAN woman to win gold in Long Jump since Jackie Joyner-Kersee in 1988!
As for one of the fastest men in the world: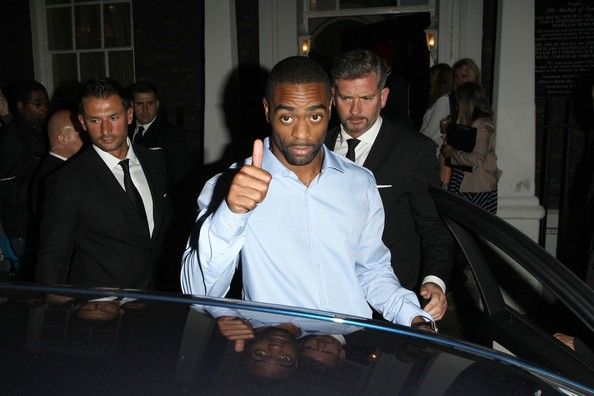 Though US sprinter Tyson Gay finished a disappointing fourth place in the London 2012 men's 100m final, he was all smiles for Athletics Night presented by Omega House in London last night. Tyson hopes to medal as a member of the USA's 4x100m athletics relay team on August 11.
Good luck!

Photos via Pacific Coast News