Two-Timing Stevie J Wines & Dines MiMi....Then Gets PUNCHED For Joking About Joseline!
Aug 09 | by Natasha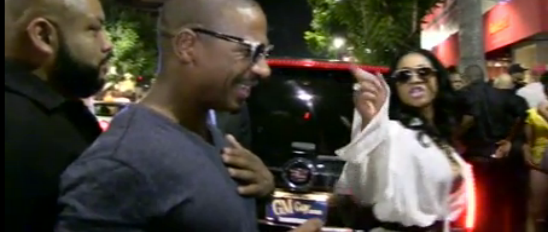 Who's the idiot who thinks joking about your jumpoff in front of your supposed main chick is funny? Stevie J., of course, Look what happened when he took his main girl & baby moms MiMi Faust out on the town last night and Stevie decided to joke with the paps....
Despite the fact Stevie J was all over both NYC and L.A. holding hands and hugging all over his "artist" Joseline in front of the cameras the last couple weeks, he's back to schmoozing MiMi as if she's still his main chick.
Honestly, we don't know who his main chick is anymore. You would think THAT alone would be enough for MiMi to leave. But no, she was right by his side at My Studio in L.A. last night. And that's when Stevie gave a disrespectful answer to one of TMZ's questions.
The camera man asked who would win in a fight--either Basketball Wives or Rapper Wives. Stevie's answer...with a chuckle? "Joseline & MiMi."
Apparently he thought that ish was cute. MiMi got pissed and punched him and took his cigarette and walked off. But we're sure she ended up in his bed hours later....
The level of dysfunction...