The SPARKLE Cast Graces The September 2012 Cover Of EBONY Magazine
Aug 10 | by Natasha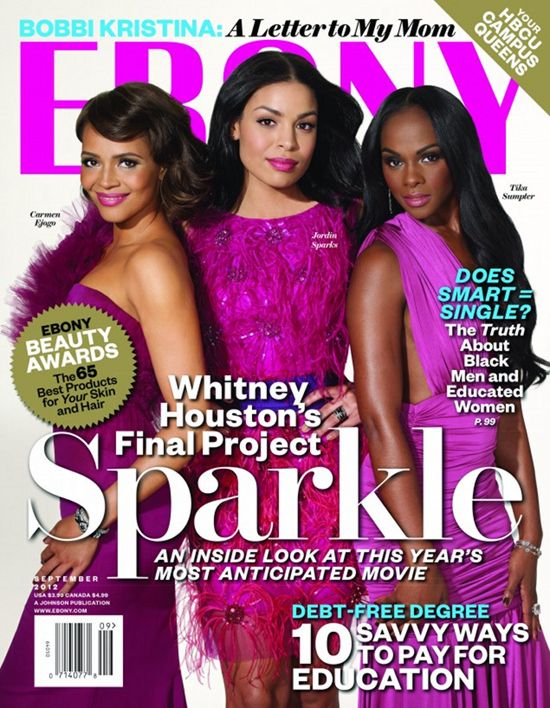 The ladies of Sparkle are gracing the September 2012 issue of EBONY magazine. Check out the co-stars looking pretty in pink & purple inside....
Carmen Ejogo, Jordin Sparks & Tika Sumpter put on their glamorous best for the upcoming cover and spread of EBONY magazine. The three ladies are hitting theaters this Friday as their remake of the 70's classic, Sparkle, hits the big screen.
"I think if Sparkle were here now, and a real person, we would be best friends. She's been wanting [fame] her whole life. Music is all she thinks about; it's all she has ever wanted to do…That's how I felt when I was growing up," says Jordin Sparks in the issue.
As for Bobbi Kris' letter to her mom, who also stars in the movie, she keeps it short sand sweet saying:
Mom, I know that making the movie Sparkle meant everything to you.
You always told me and Nicholas and the family, "This is for you, this is for us, this is for the family. This is for you Bobbi Kris." You told me that all the time. I'm so proud that you were able to finish making Sparkle before things happened. You did it for us. Mom, you had such a great time making the movie. You glowed throughout...you just glowed.

My mother being so happy was an absolutely beautiful thing for me to watch. I'm very proud of you.
Pretty cover.