TWITTER FOOLERY: K. Michelle Continues Beef With Toya, Makes Nice With Keyshia Cole + John Witherspoon Cracks Jokes About His Death Hoax!
Aug 10 | by Natasha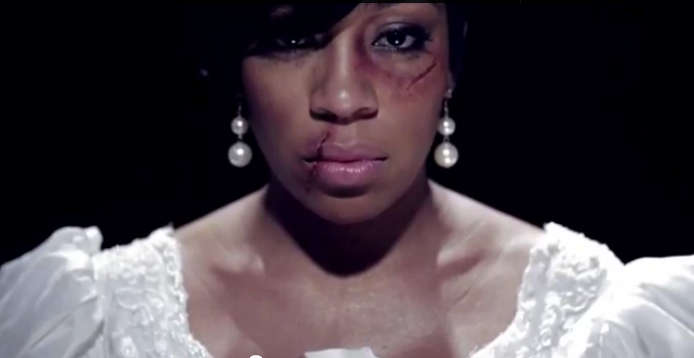 K. Michelle is taking her story of abuse and doing something positive with it. The "Love & Hip Hop" star is featured in a new graphic PSA for date abuse, and has even more words for Toya Wright who she feels is talking ish about her. Plus, see how actor John Witherspoon reacts to his Twitter death rumors..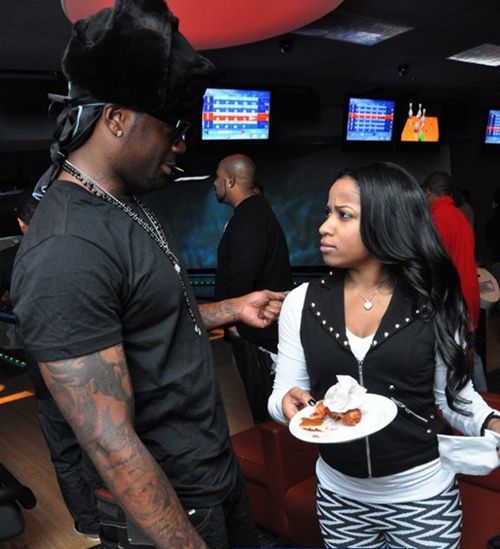 And the K. Michelle vs. Toya beef continues. During an interview early this week with Talking With Tami, Toya responded to questions about K. Michelle's allegations that Memphitz Wright, Toya's hubby, abused her years ago. She said if her husband had done such things, he would be in jail right now. Plus she alleged K is a schizophrenic who doesn't have custody of her son:
"I promised myself I was never going to talk about that because she's so irrelevant to me, but I'm going to say this: The picture she's painting of my husband, is not my husband… I've been knowing him for six years. I know several women that he has dated that never said anything about abuse."

"If someone abused you like that, where's the proof? Where's the police report? Where's the pictures? Where's the messages that you claim he sent to your kid and threatened to kill your child?"

"That's my husband. I don't know you, and I was not there when y'all had the altercation. True, but I'm going to be 100 percent supportive of my man. I don't know this abuser. I never met that guy. I don't know nothing about him abusing women or nothing.

"He's a very loving person. He's very affectionate. Anyone who knows him for real, just be like, 'What is wrong with this girl?' The crazy part about it is that everyone said you crazy and that you hit him."
"K. Michelle needs to find her own story and stop trying to stay relevant by gaining rating from us, you know she is a bonafide schizophrenic too… She doesn't even have custody of her son."
That didn't sit too well with K. She clapped back after hearing about Toya's rant and Tweeted:
I better take these pills or schizophrenia before the government comes and takes my child that I just dropped off at school Monday… It's sad when people resort to trying to hurt others to keep a public image. God bless them."
And then there's more. K deleted it, but the folks over at The Jasmine Brand captured it: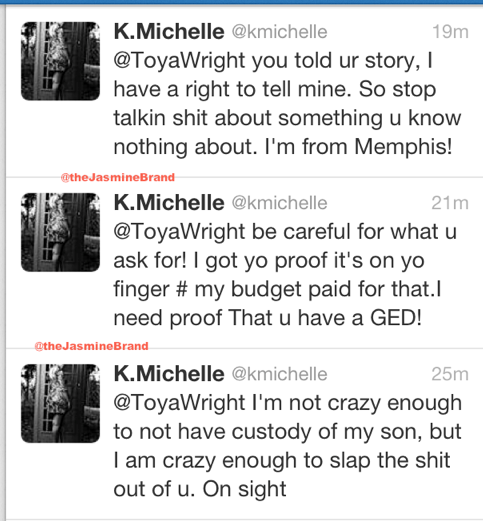 But she had nothing but nice words to say about Keyshia Cole. She had a bit of a beef with Keyshia while back when both their fan bases attacked each other after allegations were made that K. was jacking Keyshia's style. But K. Michelle tweeted yesterday:
Small things matter the most. The call I had with @keyshiacole was very Positive,&uplifting. Truly luv her spirit. Real recognize real!
And check out K. Michelle's newest cause--working with Saving Our Daughters. Her new campaign, where she is seen with a beat up face in a wedding dress, is about date abuse. K. Michelle says in the vid, "I am here to help take the power away from date abuse."
In other Twitter foolery...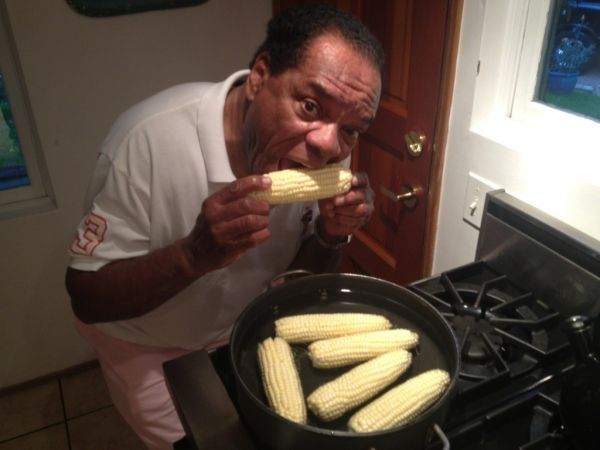 Twitter tried to kill actor/comedia John Witherspoon--again. But this time, he took it in stride. eH posted the pic above of him looking alkive and well and chomping on some corn. He tweeted:
"Hey but since I'm #Trending y'all better follow me and spread the word that "I AINT DEAD" Sh****t I'm too busy Getting this money 2 die haha"
But not one to let free publicity go to waste, Pops promoted his cooking show with a link to his YouTube channel. He also said,
"Just wanna say Thank You #Twitter for making me Internet Famous for about 35-45min now yall should hook my Account up and #Verify it #Playa"
Ha!
His next venture? He's still doing a bit of stand up around the country. Plus, he stars shooting his new TV show, "The First Family," which is about the "integration of a black president and his family in the White House."
BONUS:
Lies? This week, hype was built around an upcoming Aaliyah album done by Blackground Records-who claimed both Missy & Timbaland were involved. But Missy just tweeted she knows nothing of it:
Umm....