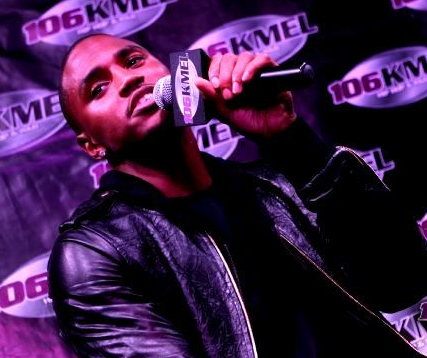 Singer Trey Songz rolled through San Francisco's 106KMEL for a very candid interview that included everything from Lauren London and Ne-Yo to his favorite sexual positions. Deets inside........
As he promotes the release of Chapter V (August 21) Trey Songz was in the Bay Area chatting it up on 106KMEL where he did a candid and raw interview.
To the delight of his fans, the sexy crooner revealed that in bed he is a "pleaser." And when asked his favorite position, he said it's whatever feels best to his partner. But he did add, "If you got a big ass I want to be behind." Typical.
During the interview, it was mentioned that Ne-Yo had made some comments about him not reaching his potential...but Trey kept his calm. He said he'd like to talk to Ne-Yo about his negative comments but it won't be a discussion for the world to hear.
When asked how many women he's been with at one time, he revealed that he's been in a situation with himself and three other women. He said more than three women is a crowd because each chick still needs to feel special. How gentlemen-like of him.
And when it came to Lauren London, he revealed a juicy little nugget saying, "Lauren London is a very important person to me, I love her to death. Is she my woman? No. We are great friends and we HAVE been lovers before."
He also talked about his ex-girlfriend, Helen. He said she is engaged now, is happy for her and wants her to be with a good man who can do the things he can't.
Check out the videos below.
Trey on his favorite sexual position:
Trey on his issues with Ne-Yo:
Trey on a wild night with multiple chicks:
Trey comes clean about Lauren London: