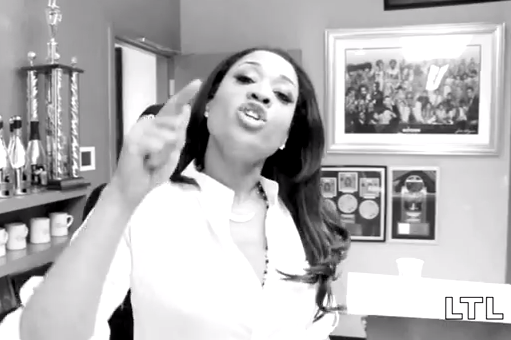 In a new clip, conveniently posted by Jermaine Dupri, Mimi Faust lashed out at "b*tches' who have been making negative comments about her life with Stevie J. Find out the foolery she said inside and get the deets on Karlie Redd talking about her daughter and Benzino's cheating.
During a likely alcohol fueled rant, "LAHH ATL" star Mimi Faust lashed out at haters--referring to them as "b*tches"--for talking about her.
She screamed at the camera, "You act like I'm the only bitch that's been cheated on. All you Muthaf*cking b*tches been cheated on." She added, "F*ck ya'll and ya'll m*thaf*ckin opinions about my life."
JD and friends urged her to continue as folks in the room made jokes about "Steebie."
What Mimi doesn't see is that even IF most women get cheated on (a separate yet foolish argument), most women wouldn't allow dude to cheat on them for 15 years and blatantly disrespect them in public....to their faces. Guess that's too much like right. Sigh.......

Watch the video here:
In other reality show news..........
Karlie Redd has been defending herself since the reunion episode of "L&HH ATL" aired. First off, she is STILL holding on to her age like its her last secret in life.
She says she looks better than all the girls on the show but still wouldn't would even come close to giving an age range.
She says that now "everyone" wants to work with her musically and what she has coming out will be "crazy." Based off that two step and "speaking" she did on that stage? Oh.
About Benzino, she said he was cheating on her since day one. She said she found a naked women in his bedroom (and this was while her own clothes were still in his closet). Guess she expected more from a man well known for doing what he does in this industry....and who tried to scoop her in the parking lot of a studio.
When it came to her mystery daughter, she said she didn't want her to get caught up in the mix and is trying to protect her (which explains why she won't talk about her).
It seems like Karlie is one of those people who says a lot, while not really saying anything at all.
She also revealed that she has a new hair line coming out and some new music dropping. She closed by saying that K. Michelle is psycho.