Condoleezza Rice Speaks On Education At RNC + First Lady Michelle Obama TUNES The RNC Out & Hits "Letterman"!
Aug 30 | by _YBF
Last night, Condoleezza Rice took the stage at the 2012 Republican National Convention where she called for educational reform and bashed President Obama's foreign policy leadership. She's an expert in both fields...but do you agree with her statements? Find out what she said inside and see First Lady Michelle Obama revealing why she's not watching the RNC on "Letterman."
Condoleezza Rice was greated with a standing ovation as she took the stage last night at the 2012 RNC. During her speech the former Secretary of State bashed President Obama's foreign policy stance and leadership skills asking,
"Where does America stand?" You see, when friends or foes alike don't know the answer to that question unambiguously and clearly, the world is likely to be a more dangerous and chaotic place."
She added,
"We cannot be reluctant to lead. And you cannot lead from behind. Mitt Romney and Paul Ryan understand this reality, that our leadership abroad and our well-being at home are inextricably linked. Our adversaries must have no reason to doubt our resolve because peace really does come through strength."
She also stressed the importance of education saying,
"Your greatest ally in controlling your response to your circumstance is in a quality education. Today, when I can look at your zip code and can tell whether you are going to get a good education. Can I really say that it doesn't matter where you came from? It matters where you are going. The crisis in K-12 education is a threat to the very fabric who we are."
She ended by reflecting on how far the country has come in terms of race and access to power in the US. She said,
"A little girl grows up in Jim Crow Birmingham – the most segregated big city in America. Her parents can't take her to a movie theater or a restaurant, but they make her believe that even though she can't have a hamburger at the Woolworth's lunch counter, she can be President of the United States. And she becomes the Secretary of State."
Watch Condi here:
Also on television last night.....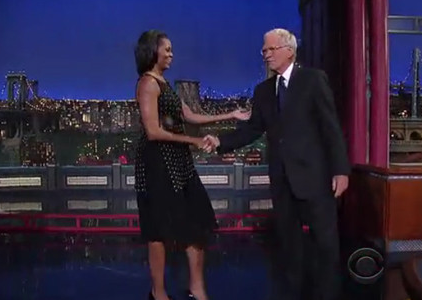 First Lady Michelle Obama stopped by "The Late Show" (her third appearance) where she chatted it up with David Letterman. It's safe to assume Mrs. Obama didn't see Condoleezza's speech as she revealed she's not watching the RNC.
"Let me start by saying I, as the wife of the guy they're running against, I tend not to watch it, but I think it's important for everyone to watch these conventions because this is the time you get to know the party, you understand the platform, you understand the candidates."
And when Dave tried to bait the First Lady into revealing any private jokes she and President Obama may have shared about Rep. Todd Akin's ignorant "legitimate rape" comments, she simply said, "There are moments when there are interesting things that happen, and we discuss them." Always keeping it classy...

She also talked about Sasha and Malia going to summer camp and she expressed her love of kale chips saying, "They were good, Dave! They were good!"
Watch Mrs. Obama on "Late Show" here: