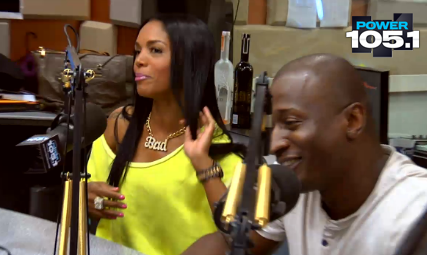 Rasheeda and Kirk Frost stopped by Power 105.1 this morning to talk about the relationship, her music and the beef she had with K. Michelle. Watch the interview inside....
Earlier, Power 105 1's "The Breakfast Club" interviewed Love & Hip Hop Atlanta's Rasheeda and her manager/husband Kirk. When asked if she and K. Michelle had a physical fight, she said, "What ya'll saw happened between me and her at the reunion....is what happened." She jokes that blogs make up a lot of stories.
She added that K. Michelle upset her because she was throwing shots at her on blogs and in radio interviews. "Stop going behind my back and wanting to talk sh*t all the time."
Rasheeda did say that she tried to bridge the gap with the whole Toya/Memphitz situation and admits no one knows what happened with her and Memphitz because no one else was there.
She also admitted that is was wrong to meet with Deb Antney without talking to Kirk first. She and Kirk then discussed her music career and being independent vs. mainstream. They said that Rasheeda is very successul placing songs in movies and on video games and they'd rather be independent. She said, "We've been able to build throughout the years and I have a solid consistent fanbase." Oh.

The couple agreed that Kirk has done a wonderful job managing her and they live a great life.
Kirk also addressed the gay rumors and said he was very upset when blogs started making up stuff about him. He said he is not gay and added that gays shouldn't have to be in the closet.
Later today, Rasheeda drops the video for "Marry Me" on "106 & Park." I know everyone's twiddling their thumbs with excitement....
Watch the interview here: