Keyshia Cole & Daniel Gibson DISH On The New Music, Reality Show And Why Her Last Album FLOPPED
Aug 31 | by _YBF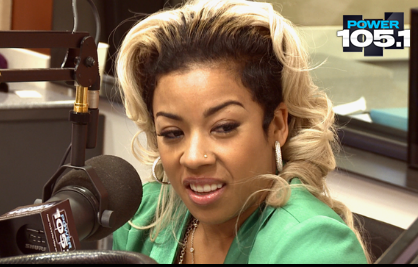 Keyshia Cole and her husband Daniel Gibson chatted it up on Power 105.1's "The Breakfast Club" this morning. Find out what she said about her music, her family reality tv inside......
Keyshia Cole and her husband Daniel "Boobie" Gibson chatted it up with The Breakfast Club where they discussed her upcoming Woman To Woman disc, her reality show "Family First" and her friendship with K. Michelle.
Keyshia opened up about being a mother saying it's a wonderful feeling and said she will always put her family ahead of her career.
The couple then dished on how the were working with the same stylist and that's how they hooked up. Keyshia played hard to get at first because she didn't want to be with anyone...but Daniel was persistent.
She then revealed that she thinks the departure of Ron Fair from Interscope, along with being pregnant ,were the main reasons her Calling All Hearts disc flopped. She added (and Daniel agreed) that she was VERY moody during the pregnancy.
She says Woman To Woman is different because she is happy in her life and the happiness comes out through her vocals.
Keyshia also dished on her new friendship with K. Michelle saying,
"I feel like, when I came into the business you have that somebody that you say, 'She set limits for me and know that I can reach that plateau', and I like I am that for K. Michelle like Mary was that for me.

Whoever comes after K. it's gon' be all G. I've already done a lot of things that people are tryin' do and I'm gonna give you the best advice to you and if you call me I'm gonna let you know what it is, my personal feelings and my beliefs about the industry and anything I can do to help… as long as it's not money."
And on relationships, she revealed that she admires Jay-Z and Beyonce:
"I love in my mind to look at Jay-Z and Beyonce because I think that he is a guy that's hood but he got his business together and I think he respects his woman regardless of what that is.

He respects her doing her thing. If that's her doing sexy clothes, if that's her singing whatever song she wants to sing, heartbroken, happy, whatever, he supports his woman."
Watch the interview here: