Meagan Good DISCUSSES How CELIBACY Improved Her SELF-WORTH And Makes DIRECTORIAL DEBUT
Sep 01 | by _YBF
Taking a break from her directorial debut, Meagan Good revealed recently how celibacy changed her life and improved her self-worth. Find out why she recommends it and see what hubby Devon Franklin had to add to the chat inside...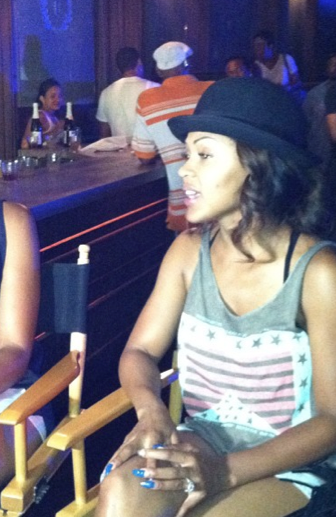 As actress Meagan Good made her directional debut yesterday on her cousin Dijon Talton's (shown above) "Wild Out" video, she chatted it up on VOH's Episode, "No Sex Before Marriage."
From the Empire night club set in L.A., Meagan talked about celibacy saying, "One of the things I noticed right off the bat what I had more clarity, more self-worth." She added that, "It made our whole relationship be about us and getting to know each other."
Meagan added that she recommends celibacy as it has positive benefits for relationships, often bringing couples closer.
Her husband, movie producer and author, Devon Franklin, joined in the "No Sex Before Marriage" conversation adding that celibacy and abstinence are a part of God's Will and the rewards can't be quantified.
Meagan later posted about her video experience saying,

I've been struck by Cupid for directing ... Outside of marriage- being saved- and having the most incredible family on the planet this was one of the most rewarding experiences of my life... Something tells me this is only the beginning of another area inside my calling... Wow so full .. thank you @dijontalton for trusting your big Cuzzo and allowing me to take this journey with you
Watch the interview here: