FASHION HEADS: Lil Kim, Angela Simmons, Tika Sumpter, Sanya Richards-Ross & Tons More Flock To NY Fashion Week Show
Sep 08 | by Natasha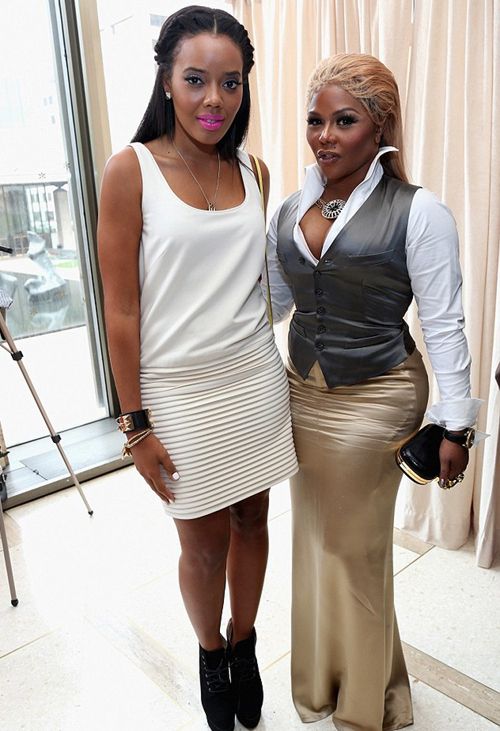 Lil Kim decided to make her way out to the NY Fashion Week shows this weekend. And we've got pics of her hamming it up with Angela Simmons. Pics of those ladies, plus tons of others like Tika Sumpter, Joan Smalls, Miss Teen USA 2012, Miss Universe Leila Lopes, Nicole Murphy and tons more...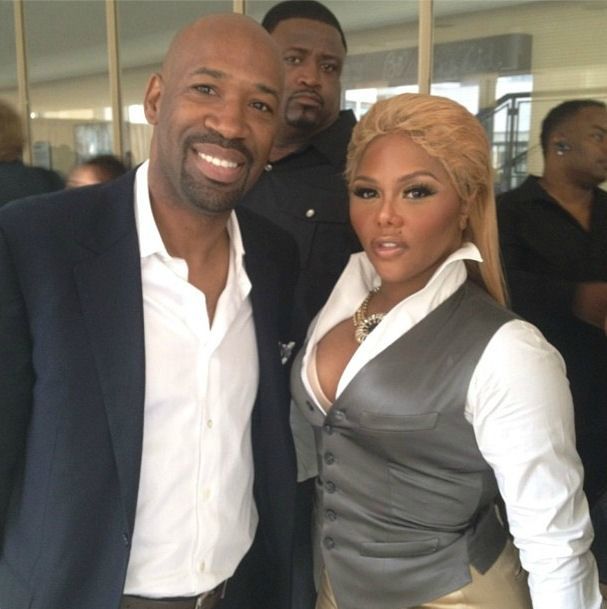 Oh Kimmy. The original rap Barbie made her way to the front row of the Nina Skarra show Saturday. And if you're not feeling her look--or the wiggery--blame her stylist Anthony La-mourr.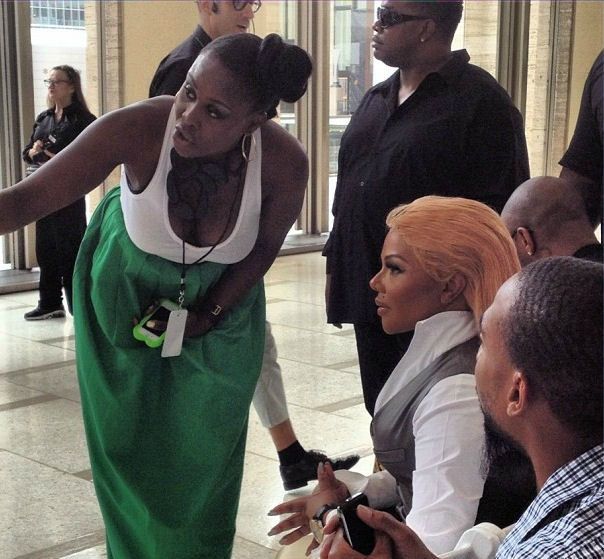 Kim rocked her satin grey & gold look and was attempting a sophisticated look. We still love her though.
And Angela Simmons rocked another flawless face at the same show:
We're in love with the hot pink lip and little white dress and stiletto booties: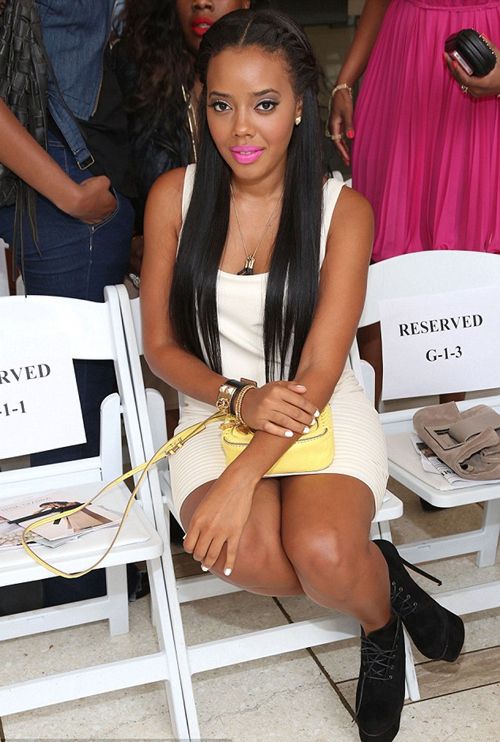 Hot.
Friday night at the Korto Momolu Spring 2013 show at the Helen Mills Gallery, pretty gals Nik Pace (from "ANTM" and is also a mom now) and actress Elise Neal kicked it front row in all black: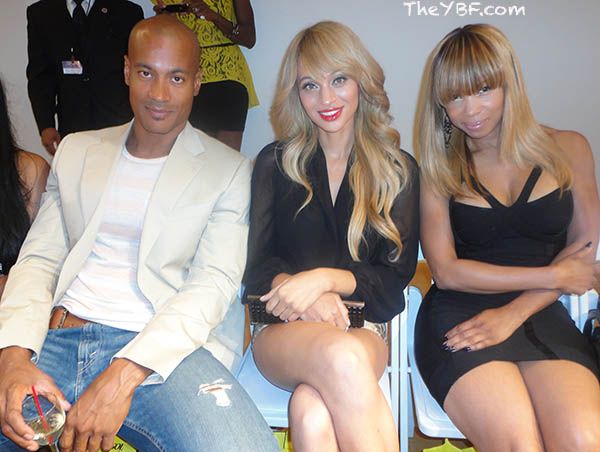 Miss Universe Leila Lopes looked her usual gorgeous self there as well. And all those shows worked up a chick's appetite. So Elise headed out for some grub at La Esquina--where her girl Vivica Fox met up with her: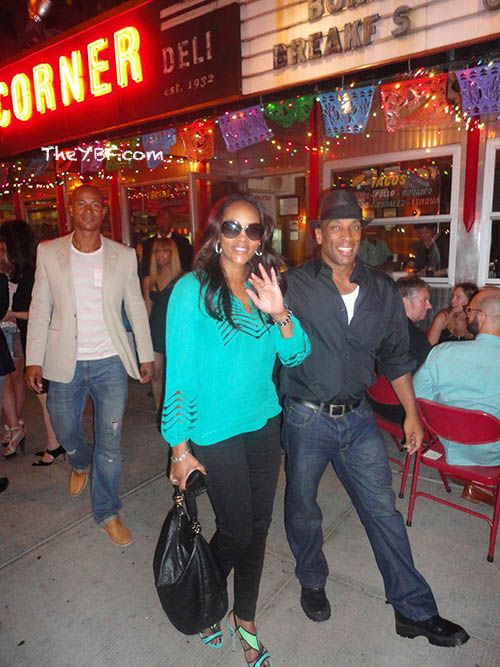 Fun times.
Back at the Lincoln Center Saturday, Sparkle actress Tika Sumpter looked amazing in a fashion forward look of a white pencil skirt with longer cheetah side panels, and a blue & white jacket over a black cropped corset: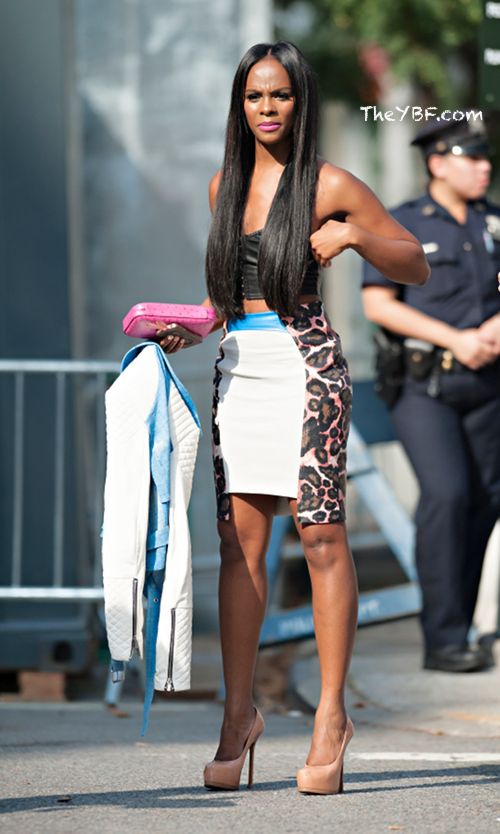 This hair is hittin'.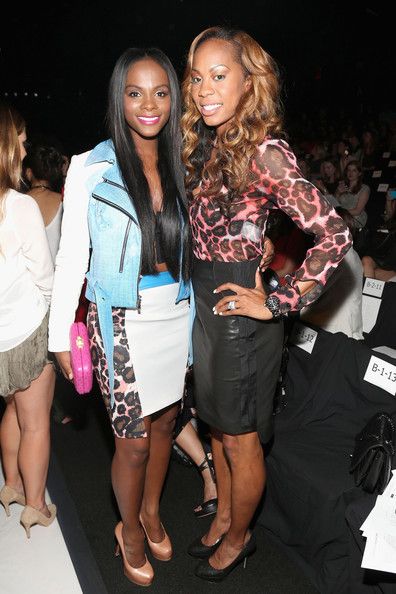 The gorgeous chick hit up the Rebecca Minkoff show with her new gal pal, Gold Medalist Sanya Richards-Ross, who has been looking just as hot lately.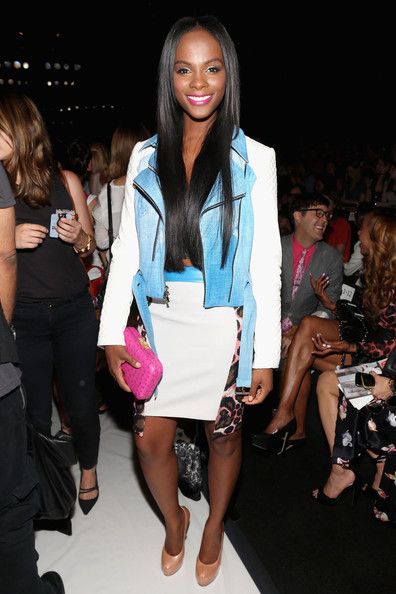 Loves it.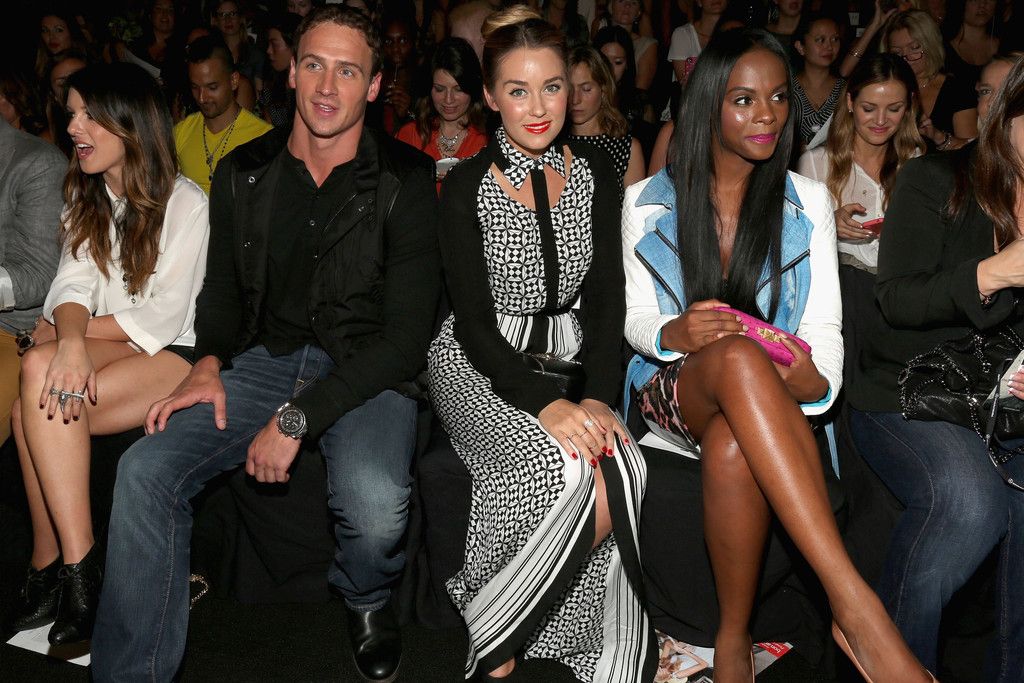 The fab actress kicked it front row next to reality star turned fashion designer Lauren Conrad, Olympic Gold Medalist Ryan Lochte, and "90210" actress Shanae Grimes.
Miss Teen USA 2012 Logan West brought her talents tot he front row of the Academy of Art show at the Lincoln Center.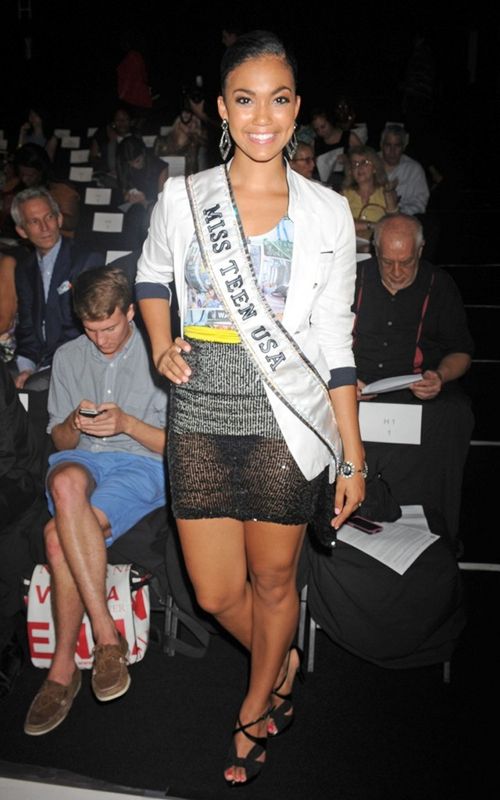 And while she's a stunning girl, this dress was all wrong. Were we supposed to look at her panties as part of this look?
Stylist June Ambrose made her rounds at several shows, and even let her moni me Summer rock her popular mouse ears & lace hat.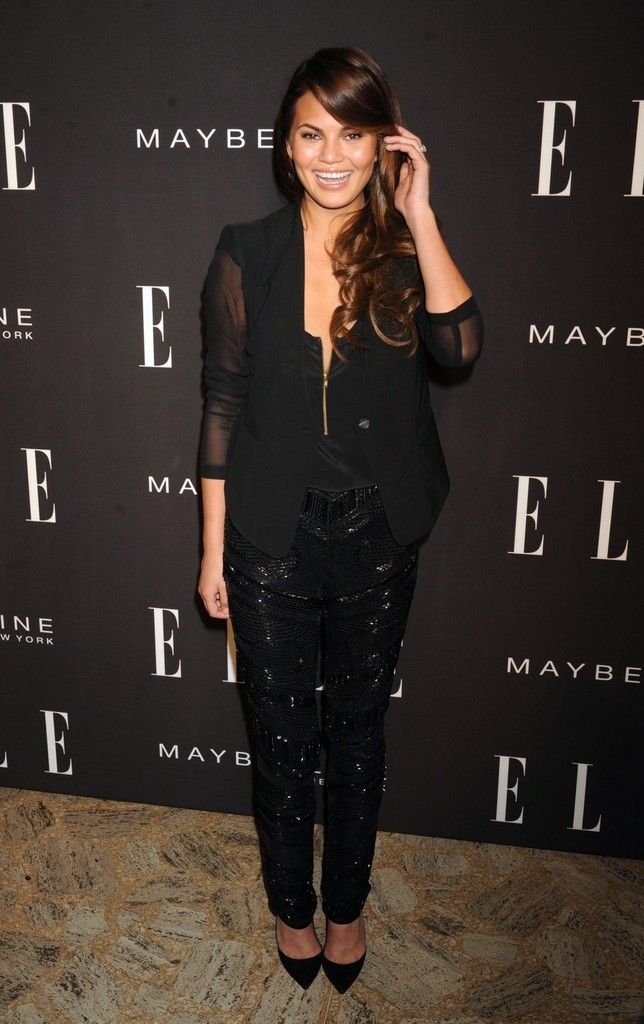 John Legend's fiance and model in her own right, Chrissy Teigen, hit up the the Elle Fashion | Next - Spring 2013 show in sequined pants and a bright smile. Very pretty. By the way, we hear she's in the running against Khloe Kardashian for the "X Factor" hosting spot.
Modelesque chick Nicole Murphy stepped out on the red carpet for Harlem's Fashion Row 5th Anniversary at Jazz at Lincoln Center: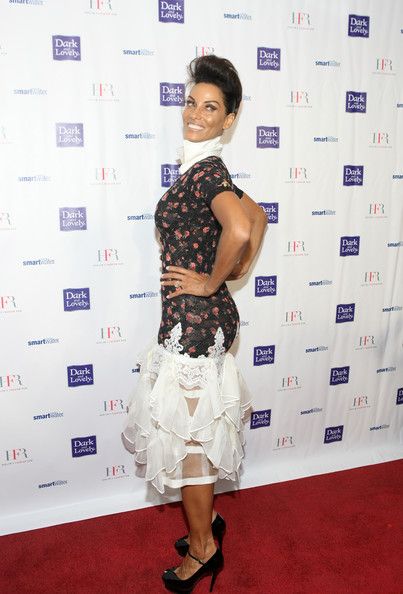 Not loving a thing about this look.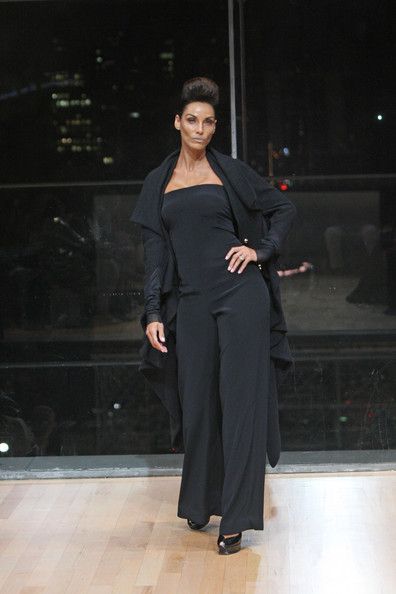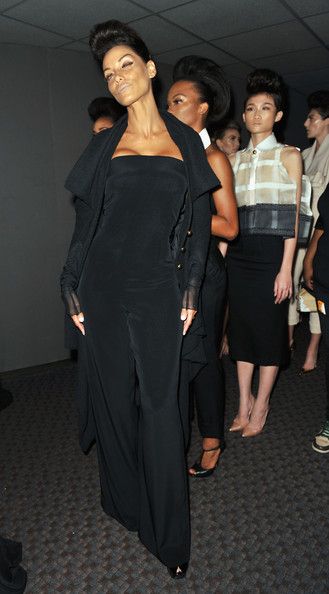 But she's working this one.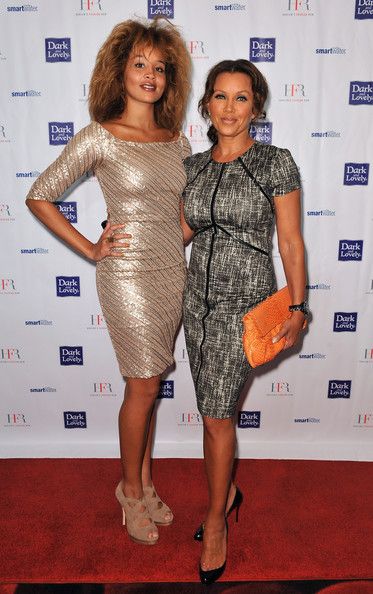 Vanessa Williams and her model daughter Jillian Hervy also attended. Great genes!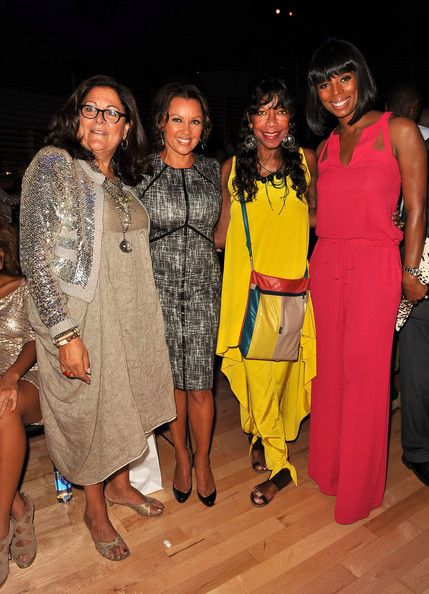 And Vanessa also posed it up with the creator of NY Fashion Week, Natalie Cole & Tasha Smith.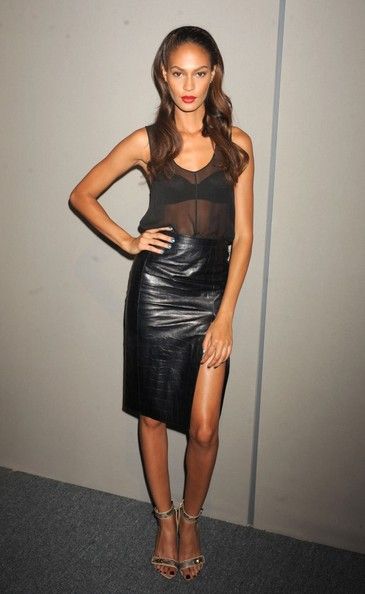 Over at Nicole Miller, model Joan Smalls kept it sheer and sexy.
Fashionista Alexandra Burke came over from London to attend the shows at Lincoln Center. She and model Jessica White hit up the Charlotte Ronson show: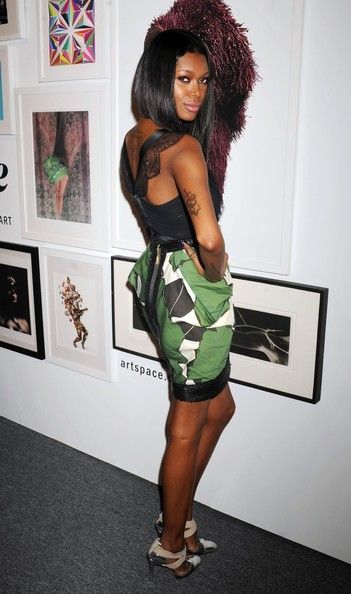 Absolutely LOVING her black bob. No more red!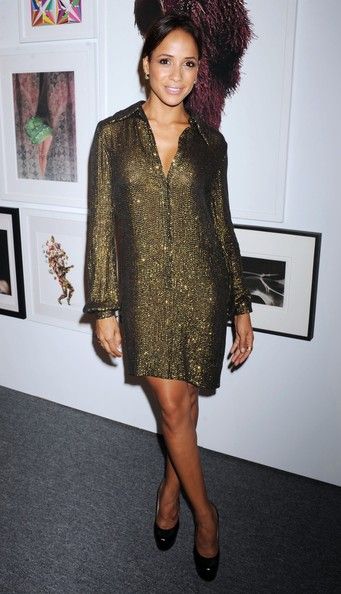 Actress Dania Ramirez made her way over to the show as well.
Fab times!