Mos Def Tells GQ About His Style & Name Change + Azealia Banks Tells ROLLING STONE About Beyonce And Being Bi-SEXUAL
Sep 11 | by _YBF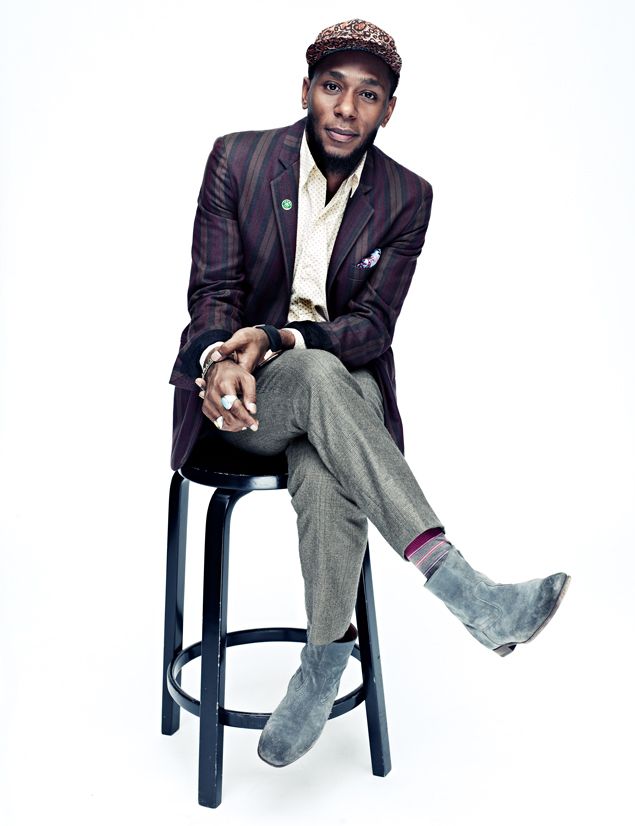 In the latest issue of GQ, rapper/actor Mos Def breaks down his thoughts on men's fashion, his own eclectic style, and dishes on his name change (Yasiin Bey). And in Rolling Stone, Azealia Banks also talks her own lipstick and reveals her love for Beyonce.....and other ladies. Deets inside........
Rapper Mos Def shot a few flicks with GQ and discussed some of the major changes in his life and career. He revealed why he changed his name to Yasiin Bey and talked about his fashion collab with Ale et Ange. Here are the highlights:
A Mos by Any Other Name...
"I began to fear that Mos Def was being treated as a product, not a person, so I've been going by Yasiin since '99. At first it was just for friends and family, but now I'm declaring it openly."

Paying Homage
"When my paternal grandfather passed a few years back, I started to wear a shirt and tie every day, like he did. Michael Jackson's death had a big impact on me, too. Right before the Ecstatic tour in 2009, I began wearing loafers and high-waisted pants. And that's where my look started."

Honest Goods
"Hip-hop is the last true folk art. I got involved with Ale et Ange because it represents hip-hop in a way that isn't pandering. It's nice to see something that's elegant, skillful, and raw."

Power Suits
"With guys I revere, like Marcus Garvey or Malcolm X, their look is less about style than purpose and the expression of beauty. It wasn't just about being noticed, you know?"

Mix-n-Sorta-Match
"I like drawing connections between pieces and patterns that would make someone else think, 'Those two things would never go together.' Well, to me they do."

So Fresh, So Clean
"I don't have advice for people on how to dress. People should dress based on what they find beautiful. My best advice: Keep your clothes clean.
In other magazines.......
Sassy rapstress Azealia Banks chatted it up with Rolling Stone recently about her new MAC lipstick, Beyonce, and her sexuality. Here are the highlights:
What does having a signature lipstick mean to you as an artist?
"Yung Rapunxel" represents what I'm all about: being myself, no matter what it costs. Yung Rapunxel is that girl who pisses people off but doesn't really mean to. She's actually a sweetheart! But people are so taken aback that she's so herself; she's not even trying to be unique or different. She literally just lives in her head; she does what she wants to do. So, the lipstick is here for someone who is happy to be themself.

Can you discuss how you developed Yung Rapunxel into a heightened alter-ego?
When I first started wearing long weaves – this was when I was about 16 and worked at Starbucks and could afford it, [because] before that, my parents wouldn't let me! – I bought this 24-inch-long weave. And you could not tell me that I was not the sexiest shit ever. I was like, "Oh my gosh, look at me." And I started calling myself Rapunzel; when I wrote "212," I randomly added the "Young" to it. Sometimes when you're writing, ideas just spring up randomly, and I realized "Yung Rapunxel" sounded so cool.


Your new video for "1991" really touches upon the steely, bionic videos of early Nineties house artists. What about vogue-ing and ball culture inspires you?
Well, I'm from Harlem. I went to art school; I grew up with the cunts. And that term doesn't come from me! People think I invented it, but I didn't. To be cunty is to be feminine and to be, like, aware of yourself. Nobody's fucking with that inner strength and delicateness. The cunts, the gay men, adore that. My friends would say, "Oh you need to cunt it up! You're being too banjee." Banjee means unrefined and rough. You need your cunts: they fix your hair for you and do your makeup. They give you confidence and give you life.


So do you feel a special affection for your gay fans?
Definitely. I mean, I'm bisexual, so it makes sense. But I don't want to be that girl who says all gays necessarily hang out together, of course! I have people say to me, "Oh wow, my friend is gay, too," and I'm like, "Yeah, so?"


Who did you admire growing up?
Aaliyah. And I love Beyonce – she's the queen of everything. She's the most remarkable performer and musician. And this is just my humble opinion, but I just think she's better than everyone else making music right now.

Are you still starstruck by her?
Yes, and I met her – and I cried! It was so embarrassing. It was at the Met Ball. I was fucking around with Kanye and she was sitting there, chilling and eating dinner. I freaked out. And I realized she saw me being a dummy and I started crying. Then I saw her expression, like, "Girl, get your shit together." I had to walk away and get myself together and pat my face, then come back to properly say hi! And if I meet her again someday, I'll probably cry again.
Azealia recently revealed that she's shooting a video for "Esta Noche."
Photos via Steven Pan