DMX Says On The Breakfast Club He'd Like To Catch DRAKE & "BEAT HIM UP", Gives Real Talk About The Rap Game!
Sep 13 | by _YBF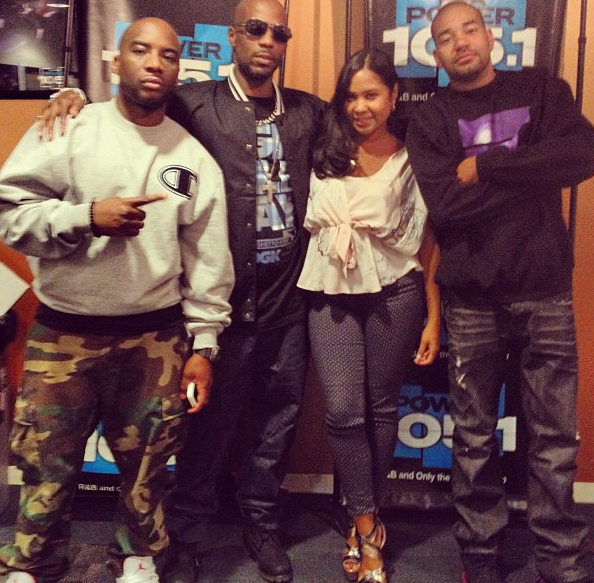 Hilarious rapper DMX dropped by The Breakfast Club this morning where he revealed he'd like to catch Drake and beat him up on an elevator! This dude....
Listen to the interview inside........
On Power 105. 1's "The Breakfast Club," rapper DMX admitted that he isn't too impressed with the rappers on the scene now. While DMX said he is bringing "integrity" rap to the table (oh?), he said other "rappers" should admit that they aren't doing hip hop.
He said, "Just because you are black and wear jewelry doesn't make you a rapper." Well we gotta agree with him there.
And on the subject of his close late friend Aaliyah, he said he felt it was disrespectful of Drake to produce her upcoming album.
"It's disrespectful; like that don't even make sense, that's like wrong man. Man I wish it was like 10 years ago, catch a n*gga on the elevator and beat him up….He ain't gotta be by himself. We wolfed out in this joint."
And when it came to reality tv, he blasted stars of "LAHH ATL" saying,
"I might watch it for a few minutes. It's like 'Really?' Some of it I can't even stomach. I don't see nothing real about it. Ain't nobody made one got damn song on the show. I don't see any love on there and no music. It should be called 'N*ggas on Some Bullsh*t."
Who knew we'd be agreeing with DMX this much?
He also revealed that he and ex-wife Tasheera Simmon are officially over. He said, "I'm glad I got out of it when I did." He said he is still involved with his kids. He added that Tasheera "didn't watch" their money. He didn't say they were broke, but he let it be known that she was supposed to be in charge, and she didn't handle it. Womp.
He also added that he doesn't find Nicki Minaj attractive saying,
"I'm good on that. I wouldn't do that. I don't know her to not like her. I'm not attracted to her. It's too much going on. I know she don't hop out the bed lookin' like that."
Check. When asked about Kanye and Kim, he shook his head saying he would never date her because she got famous from a sex tape. WOMP.
Watch the interview here: