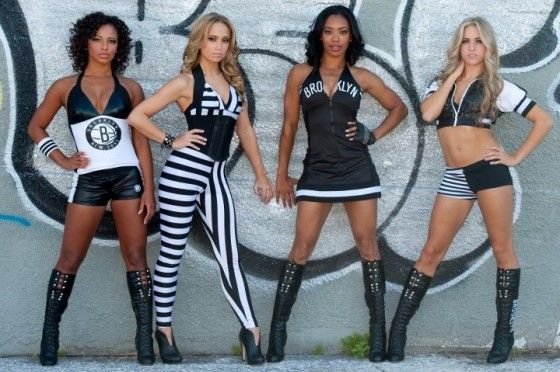 New team...new arena...new dancers. There's a whole lot of newness over in Brooklyn. But are we feeling the Brooklynettes' (yes, that's the name of the squad who cheers on the ballers) new uniforms? Check 'em inside...
Nope, this isn't merchandise up for sale for you to hit the club or the corner in. They're the new uniforms for the 20-person team of cheerleader/dancers for the Brooklyn Nets.
Jay-Z, who is partial owner of the team, had the responsibility of designing the new Nets logo. And the black and white themed arena and team colors have, of course, extended to the Brooklynettes.
Some folks think it's a glammed up refreshed look that will shake up NBA dance teams. But we don't know if that shake up is a good thing. The NY Post spoke to the designer, who says he loves a "pop star look", for an explanation:
"The uniforms are feminine and strong," said the costumes' designer, David Dalrymple, who has worked with fashion icon Patricia Field for decades, collaborating on costumes for "Sex and the City" and "The Devil Wears Prada."

"This isn't palm trees and sunshine. It's New York City, and it's Brooklyn. It's a different sensibility. We go hard," the designer said.

"They have a jumpsuit, a neoprene scuba blazer with sequin leggings, a little cropped warm-up jacket, and painted sequin leggings," Dalrymple said.
All the looks feature the logos in black and white...with short skirts and pleather-like low cut material and multi-printed catsuits and all. And yes, the fingerless gloves, boots and latex are all a part of the look. Not sure how these chicks are about to dance in this, but I'm sure we'll see soon.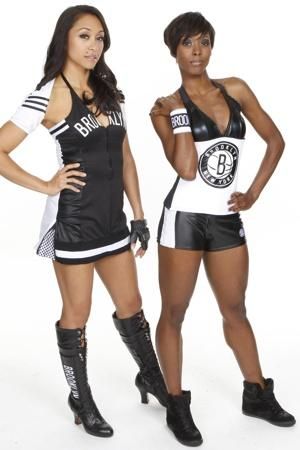 We have an eerie feeling HouseOfDamnIt'sWrong has something to do with this. But still...
DO WE LOVE IT?!