Alicia Keys & Samuel L. Jackson Release MUST SEE Obama Campaign Vids + Throwback Princeton Pic Of First Lady Michelle Obama
Sep 27 | by Natasha
Celebs are on constant rotation in pushing the Obama campaign. Check out Alicia Keys' and Sam Jackson's very different but very necessary campaign videos (Sam's is NSFW of course), plus, check out a fly Michelle Obama back in her Princeton days....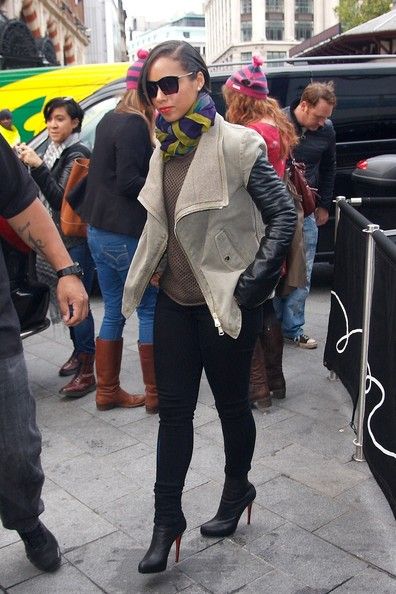 Alicia Keys, pictured above in London today visiting Capital FM radio for promo of her new Girl On Fire album, is featured in an official President Barack Obama campaign video released today.
The singer and activist Alicia Keys offers a behind-the-scenes look of a day on the campaign trail and encourages those supporting the President to get involved. The vid features Alicia's recent trip to Philadelphia, PA where she discussed what's at stake in this election and the importance of getting off the sidelines. The video is below:
And Sam Jackson is also in a new Obama campaign video where he's telling folks to WAKE THE F**K UP. If you get past the language, it's pretty funny and some real talk:
Oh Sam.
And since it is Throwback Thursday, this pic of First Lady Michelle Obama hit the net today. And it's am 18-year-old co-ed dressed in denim-on-denim with a popped collar and looking cute outside Pyne Hall dorms on Princeton's campus.
The Princeton alumnus was the topic of an article by the Princeton Alumni Weekly where old friends of the First Lady were asked about who she was back then.
Her neighbor wile she was a student told the publication a few memories:
Mrs Obama was 'where the party was' and remembers her almost 6ft tall, appearing in Princeton fashion shows where she would model student designs on the catwalk.
Loves it.
Alicia's Pics: Pacific Coast News