HELLO BROOKLYN.....First Pic of The Suited Up Brooklyn Nets + Nas Pushes His FIRST Voting PSA
Oct 01 | by _YBF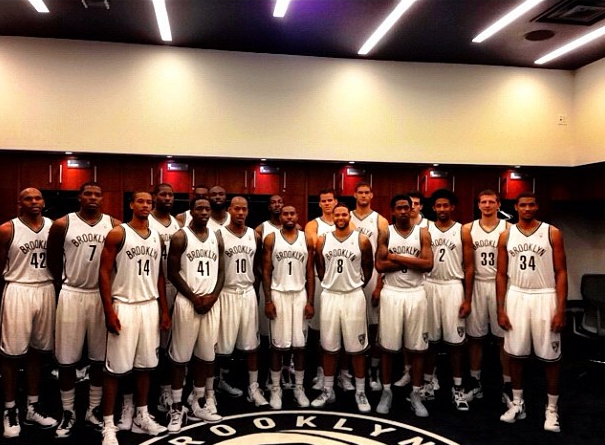 HELLO BROOKLYN! The first pic of the Brooklyn Nets all suited up in their brand new uniforms and ready to take the Barclays Center by storm has hit the net! See the photo inside and watch New York bred Nas' voting PSA.
Deron Williams has posted the first photo of he and his teammates, the Brooklyn Nets, suited up in their black and white. Part-owned by Jay-Z, the team, whose home turf will be the Barclays Center in Brooklyn, NY, are coached by Avery Johnson. Team ballers Kris Humphries and Jerry Stackhouse are also known names on the team. In case you were wondering-- the team's official mascots are the Brooklyn Knight and Sly the Silver Fox.
Their first game of the pre-season will be against the 76ers on October 13. You ready?
And in other NY news......
Rapper Nas has teamed up with OurTime.org to film his first voting PSA. In the video, he talks about why he votes and why he loves the power:

"The future of this country is in the hands of the young people. We have the power, we can go to the polls in droves and vote to get the person we want. As a voter, now that I voted, I feel so much power that I didn't feel before. Like, what I say matters."
OurTime.org is a non-partisan, non-profit, youth empowerment organization that is currently registering people to vote.