BOND GIRL FAB: Naomie Harris Rocks The Cover Of INSTYLE UK, Talks Revamping The Bond Girl Role
Oct 03 | by Natasha
Naomie Harris is our fave YBF chick of the moment. Why? Because she recently worked with the utter hotness that is Daniel Craig...and because she's single-handedly revamping the iconic role of a Bond Girl.
She's now rocking the November 2012 cover and pages of InStyle UK magazine (which is a feat in itself for a YBF chick). And she looks FAB. Check the pics and highlights inside....
36-year-old British babe Naomie Harris is rocking her fave clothes (including her fave leather pants she says her friends are tired of seeing her in) for the InStyle UK shoot. Her shoot consisted of clothes from "High Street" in London where she mainly shops--Topshop, All Saints and ASOS.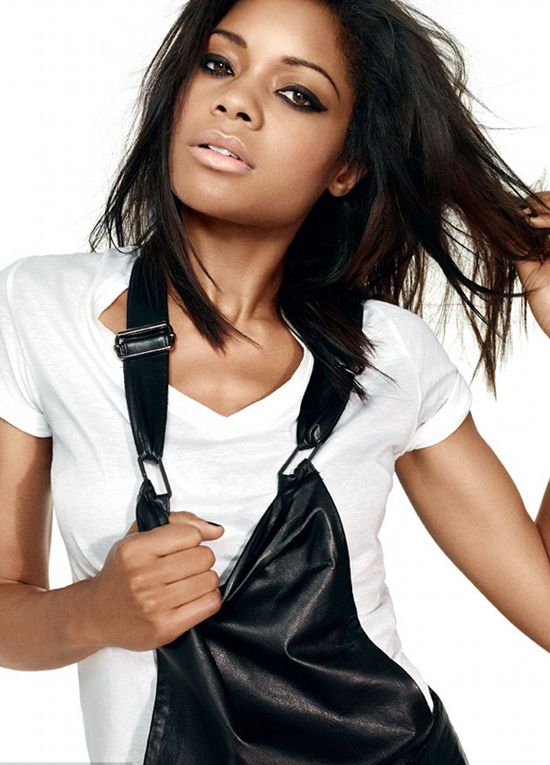 Naomie revealed she was happy her Bond Girl role is different than the previous Bond Girls whose main job was to serve as the sexual & romantic appetitie of Mr. Bond. But she's playing Field Agent Eve, and reveals about the role:
"She's very intelligent and highly ambitious – her aim is to be as capable as James Bond. It's much more evolved, much more reflective of how women are now – multifaceted, multidimensional and equal to men.

It's amazing, sometimes, you watch other movies and you think, 'Wow, are we really still there… where the woman's offering the drinks and there's nothing more to her?' "
Highights from her interview:
On the charm of Daniel Craig, who stars as the latest James Bond: "I do get to have a lovely moment with him, where I try to seduce him. I shave him and he's got his shirt off....He's a very hot guy, definitely. He worked out for two hours every day after filming. He's a real life Bond – very physical, capable and energetic."
On her hesitation of becoming the new Bond girl: "When they asked me to audition, I thought, "Me, as a Bond Girl?" I just didn't see it."
On the challenges of getting dressed for red carpets: "I find it quite stressful. Sometimes you're so pinned into dresses, you can hardly breathe and you feel awkward, but then when you find that amazing dress, it can change your whole experience.
On her designer faves: Cavalli and Erdem are two of my favorite designers and I love Gucci as well. I'm definitely getting more into fashion."
On whether she wants to have kids amidst her demanding career: "I better get moving if I do want kids! This profession is pretty demanding. I don't know if I could deal with a kid as well, but then many actresses do, so it can't be that impossible....The first thing I would teach my children – should I be lucky enough to have any – is to be comfortable in your own skin and know that you're worthy of being here and taking up space."
Check out behind the scenes video above. And pick up your InStyle UK copy on stands Thursday.